SBCC student government falls short of initial semester goals
City College's Associated Student Government held a few events for students this semester, but its main focus was on creating a better system of organization between members.
Although senators co-sponsored some events, they did not accomplish everything on their to-do list this semester. Instead, they worked from the inside and built a stronger structure within the senate, hoping to be more effective leaders in the spring.
"Most of our goals were pretty ambitious at first," said Mathew Marino, vice president of internal affairs. "When we finally got to that goal setting process, there was just a lot of stuff we wanted to do and I think it was a little overwhelming."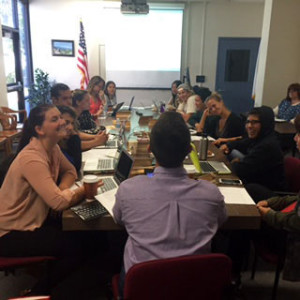 Senate President Isaac Eaves said the senators have been on campus socializing with the students, as well sending out newsletters through Pipeline.
The members also held a student outreach table in September, where students could bring their concerns to senators and fill out a five-minute survey.
"It's been a long process but I finally have students actually know who I am and bring issues to me," Eaves said.
Senators have participated in other socializing events, such as co-sponsoring a tailgate party with the international student ambassadors in early November. It was held at La Playa Stadium before a home football game, and music and free food were provided for the students.
They also helped create Meet Your Neighbors Day, where residents of Isla Vista gathered and got to know each other over food, movies and music.
In order to have students more involved on campus, the senate held two club days on East Campus in early September and mid-October.
"We currently have 57 active clubs and we communicate with them," Eaves said.
This semester, senate members also worked on the college's public image around the Mesa area. This included events like the one in September, in which multiple senators and volunteers cleaned up trash around Mesa neighborhoods.
"That kind of helped build relationships with the neighbors and kind of like made SBCC students look a little better," Eaves said.
Originally, the senators planned on holding debates on campus so students could become more educated during voting season. They also planned to add more Hydration stations around campus, and improve the school's wireless, parking and housing availability. They planned to lobby for free education, hold a mass game of volleyball and bring food trucks on campus.
"I think it was a little lacking this semester," Marino said. " I definitely wish we were a little more connected."
Although senators did not accomplish all their goals this semester, they hope to begin spring as a stronger team.
"I'm hoping we can get everyone on a running start next semester," Eaves said.