SBCC offers mobile librarian in Isla Vista to assist students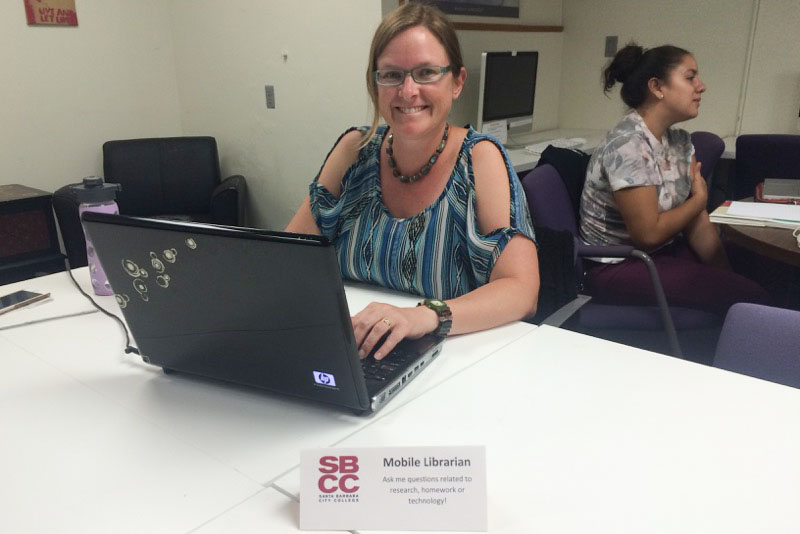 Leaving the house and taking a 30-minute bus ride to get help with school is the last thing students on a deadline want to do, and City College has found a way to help out.
A librarian from City College's Luria Library will be at the Pardall Center in Isla Vista every Wednesday night from 5:30 to 8:30 p.m.
City College teamed up with UCSB's Associated Students to host a mobile librarian in the Community Center one day a week, giving City College students living in the area access to library resources.
While there is only one librarian, the center offers access to free Wi-Fi, computers and printers, along with a quiet place for students to get the help they need. Students and residents also have the opportunity to get 150 free black and white and 50 free color prints per quarter.
The center seemed to be a "natural fit" for the idea, according to Kirsten LaBonte, the mobile librarian in Isla Vista.
LaBonte has been a part of the City College Library team since 2009 as an adjunct lecturer. She teaches an online information literacy course, giving her skills and resources to help out students in need of research help. LaBonte has also lived in Old Town Goleta as well as Isla Vista for almost 20 years, and the commute to the Pardall Center at 5 p.m. was much more enjoyable than the commute to City College's Luria Library during rush hour.
"My work as the IV Mobile Librarian for SBCC enables me to work directly with more students, and reach out to them close to their homes," said LaBonte. "It's not always easy to get between IV and SBCC, especially in the evening when bus schedules are limited."
This is an idea formed from the City College Task Force that in April compiled surveys and focus group results to form an official report targeted at Isla Vista residents who attend City College. The report summarizes the results into three main concerns as well as different solutions to fix these issues and bridge the gap between the college and the students.
"I think having a librarian in Isla Vista is really useful," said Jordan Farrell, Isla Vista resident and City College student. "With the amount of students of that live here, every studying space is packed. Having a librarian is going to benefit a good amount of students."
Access to a mobile librarian started Sept. 20 and will continue until Dec. 2, excluding Nov. 11 and Nov. 25.
For now, the program is offered only for the fall semester and its continuation depends on the amount of people who go the center for help. If shown unpopular and poorly attended, the Luria Library staff will come together again and brainstorm an alternative.