SBCC dives into Cal Poly Pier maintenance opportunity
A four-year informal partnership between City College's Marine Diving Technology Program and Cal Poly San Luis Obispo has granted commercial diving students access to Cal Poly Pier.
Providing a fantastic environment for hands on training, Cal Poly Pier has proven to be an invaluable resource for City College's Marine Diving Technology Program.
"It's slowly grown as the two groups have learned to trust each other," said Geoff Thielst, Marine Diving Technologies Program director. "They're learning to trust that we won't make a mistake or hurt anyone, and I guess I have always trusted them."
While the program at City College has resources to properly train divers in all aspects of the field, including instruction in all phases of commercial diving, hyperbaric oxygen therapy, saturation diving, emergency medicine, and boating and marine science. Nothing else can replicate the real life scenarios students face in the field.
There is a big difference between diving in the clear fresh water tanks of City College, to a more dynamic environment. In the natural waters it's colder, visibility is diminished, and, as Thielst put it, "it's dark, cold and scary."
"
We are blessed to be here in Santa Barbara and have this beautiful facility, it's awesome."
— Geoff Thielst
"We are blessed to be here in Santa Barbara and have this beautiful facility, it's awesome," said Thielst. "But we train on a wood pier, or on boats out in the channel. That's a steel structure up there, most of what's fabricated in the oceans these days are steel structures."
Cal Poly Pier was built in 1984 by Unocal Corp. to help facilitate transportation of oil on the West Coast. In 2001, they donated the pier to Cal Poly San Luis Obispo to be used as a marine research facility. The 3000 foot pier now hosts a myriad of resources including a dry classroom area, flowing seawater system with a wet-lab and aquarium space, various monitoring instruments such as a meteorological station, a fixed underwater instrument line, and an acoustic wave and current meter.
"They have this wonderful facility with deeper water and the way the facility is constructed is very much in-line with the way offshore structures are designed and constructed," Thielst said. "For us it gives an opportunity to go up there and do the inspection, maintenance and repair kind of activities that would be very common once these young people get out in the field."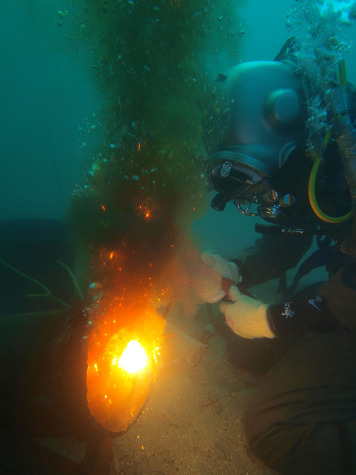 Having access to the pier gives students and instructors the opportunity to take skills they learn within a controlled classroom environment to a new level. They're tested in a more challenging environment. An environment that, conveniently, is almost identical to the ones students may find once they enter the professional trade.
The magnitude of this access is not lost on students that realize the significance of absorbing this kind of experience; an experience that students in other diving programs may not have access to.
"You get taught what to do, all the theory behind it, all the safety, all the procedures, then you have to actually go do it," said Treneir Woodland, a student in the diving program. "Everything is pretty much reminiscent of an offshore oil platform, so it offers a really good tool for us to be able to dive it."
The pier also gives instructors like Thielst a perfect place to test expensive new toys that he may not have the opportunity to test without a proper environment.
"I have some very expensive inspection tools that will give me metal thickness and test the life remaining in I-beams and pipes. It doesn't work on wood," said Thielst. "I can use it in the tank, but that's not half as fun as being able to use it on the pier."
Each group of students in the program is together for 9 months. According to Thielst, each group takes on a personality, some more ready than others. As the end of the semester comes around he must make the call whether or not the group is ready to make the shift as a whole.
As much as instructors would love every student to dive the Cal Poly Pier, student safety is their first priority.
"I really care, and if I have the opportunity to make the experience better for the student, I'm going to take it every time," said Thielst. "As long as it's safe and I can afford it, I'm going to do it."