City College has begun construction of a new building on West Campus to replace some of the current East Campus portable buildings.
The construction began in June 2015 and is estimated to cost $14.9 million, according to Julie Hendricks, senior director of facilities, planning and campus development at City College.
"This is one hundred percent of the Measure V funds," said Hendricks. "It is the final project of the measure and it is going to use the last of the money."
The project is planned to be completed by spring 2018 and will replace 12 of the portable classrooms.
Story continues below advertisement
Students who are currently taking classes in the portable buildings are looking forward to the construction project.
"I like the new building replacing some of the portables," said biology major, Arielle Moorman. "It would be nice to not see them when you look down onto East Campus. It would be cool having another building on West Campus too since it is closer to the library."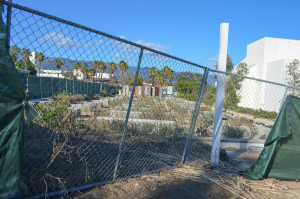 Architectural group Kruger Bensen Ziemer Architects Inc. began planning the project in Jan. of 2013. The process of getting approvals and permits from the school, city, and state took two years, until construction began in June of this year.
The college started construction using the lease-leaseback system. The system helps the district complete construction projects at a low cost by working with building companies that have the best value and avoiding having to advertise for bids from multiple companies. The district can then lease the land to the builder for the time of construction and regain the lease once it's complete.
However after the court case ruling of Davis v. Fresno Unified School Dist. in which the Fresno district violated conflict of interest laws, the college decided to switch systems to Construction Manager Multiple Prime. This new system puts the college in charge of planning and bidding out the different projects. Since the college is not a contracting company, it hired Lundgren Management as a third party to help assist and oversee the different jobs needed for the construction.
The new building is estimated to take two and a half years to complete. The decision as to which departments will go into the new building will come from PLLUMP, the college's Program Location and Land Use Master Plan, which was created in 2014 to enhance and improve existing programs on campus.
"We anticipate classes will begin in spring 2018," said Hendricks. "There is no plan of what's going in it yet. That is up to PLLUMP."
[editor's note: an earlier version of this story incorrectly stated construction had already begun. It will not start until later this fall.]