MTD meets with student senate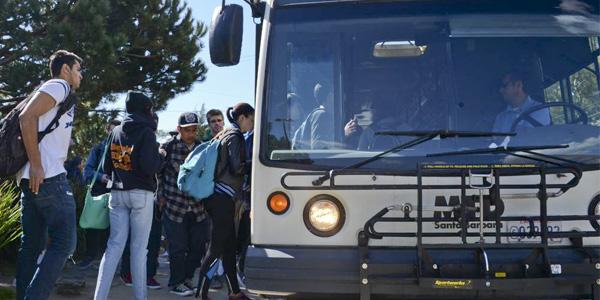 Metropolitan Transit District general managers met with the Associated Student Senate this morning to discuss different options for rate increases.
Every four years MTD renews its contract with City College to keep bus passes accessible to all students. After reviewing the 2012 fiscal year, MTD discovered student ridership has increased, causing it to lose money. The current contract will come to an end in summer 2014, but students need to vote sometime this semester to decide the fate of their passes.
"It's an extreme and amazing use by City College students and this means the fee per ride is not enough to compensate for what we're giving," said MTD's General Manager Sherrie Fisher. "We do understand though that what we're giving is not enough to accommodate what students need."
Student Senate President Geneva Sherman expressed to MTD officials that City College is providing them with the most money because it is providing the most riders.
"Why would our students pay the same price as the rest of the community when we're making up the majority of the ridership?" she said.
General Manager Sherrie Fisher and Assistant General Manager Jerry Estrada attended the Feb. 22 meeting and presented the senate with three possible options.
The first being a roughly 60 percent increase to transportation fees across the entire board. This fee applies to all students whether they ride the buses or not.
Alternatively, MTD proposed spreading out the 60 percent increase over the next four years, making the impact on student wallets less shocking.
The last being to end the contract and get rid of passes making each rider pay a flat fee per ride. It was strongly expressed that MTD does not want to cut ties with City College and this will only be used as a last option.
"Students have experienced a 130 percent tuition rate increase already and our students are very sensitive to price points," said Superintendent President Lori Gaskin. "We're glad the MTD board is open to meeting with students to discuss potential solutions."
Many students' biggest concerns are whether or not it is reasonable for those who do not ride the bus to be forced to pay an increased rate on top of paying for a parking pass.
"It's not fair that students who don't ride the bus would have to pay an increased price, but it's still really expensive to pay for each ride," said Libby Stern, 20, liberal arts major. "It's not fair either way so they need to find a compromise."
The senate will soon decide when voting will be held on the three options.