'Woolly Mammoth' provides essentials for geology students
As City College students explore Death Valley for five days, the earth and planetary sciences department provided meals, camping equipment and everything in between, with a 'mammoth' to help.
The department's "Woolly Mammoth," a massive truck usually seen parked outside the Earth and Biological Sciences building, supplies students on overnight trips with necessities. It joined the department on Wednesday, April 13, for the annual trip through Death Valley and the Panamint Mountain range, where students study billions of years of California geology.
"This truck is equipped to feed at least 200 people for at least five days," said Kitao. "And it doesn't just feed them, it feeds them amazingly."
Since a group of students first established it, the truck has been a part of the department trips for the past 47 years, Lab Technician Eiko Kitao said.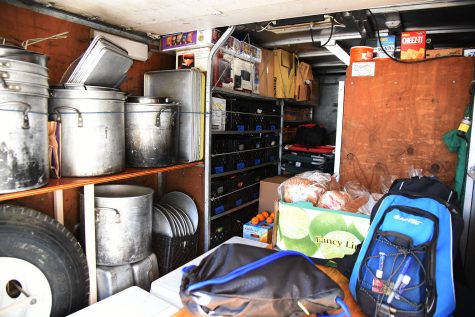 The truck is fully equipped with kitchen appliances such as a stove, oven, griddle, walk-in-fridge and two deep freezers. It also has water storage and filter. A generator in the truck powers the kitchen and lights, while stainless steel shelves inside the truck hold 45 crates of snacks, produce, bread and meat.
"The name used to describe a strong, woolly, solid crew of students," Kitao said. "And that's what it's all about."
Kitao said the crew is made up of Culinary Arts students and volunteers. The volunteers are geologists, retired mechanics, firefighters, culinary staff and certified CPR and First Aid professionals.
Culinary Arts students also receive course credit for going on the trip.
"What makes it so special is not the truck itself, but the people who go on the trips," said Kathy Stein, campus store faculty and trip attendee.
The crew prepares meals and facilitates campsites, which are never on actual campgrounds.
Rain or shine, the crew wakes up every morning at 4:30 a.m. to make hot breakfast and coffee for campers. They also prepare bagged lunches for students.
"I remember last year, we were cooking french toast in the rain," said Austin Wahlean, a Woolly Crew member and Culinary Arts student. "It was a different experience."
When campers take off for the day to study, the crew cleans and sets up for dinner, which is served at 5 p.m. A different entree and dessert is served to campers every night.
The crew sets up campfires, cleans up the campsite and collects and disposes of all trash before heading back to Santa Barbara.
When the "Woolly" isn't out with students on science excursions, it serves as City College's emergency disaster resource, Kitao said. In the case of a natural disaster, the truck can sustainably provide both City College and the community with a power source, lighting, filtered water, medical supplies and fire-suppression equipment.
"It's simple: the Woolly Mammoth is the most awesome creation on the face of the earth," said Kevin McNichol, geography lab technician and crew leader.