There is currently a prominent gender gap in City College's construction technology program, with only three women enrolled the program.
"Sometimes they're physically small and they're around all these big guys," said Dr. Patrick Foster, director of the construction technology department. "But you know, they can do it."
The program started this semester with 120 students. Two of the three women, Tana Kincaid, 51, and Susan Sheppard, 46, are trying to engage and encourage more females to join the program.
"When you found out how much money you can potentially make it's like 'what the hell am I sitting at this desk for,'" Sheppard said.
Story continues below advertisement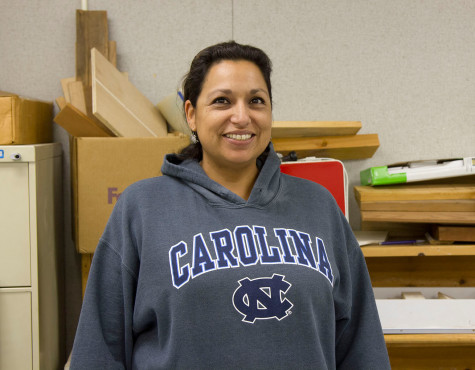 Sheppard believes most women nowadays do not consider construction as an option when choosing a career.
"You don't really think about when you're sitting in high school like 'I can be electrician,' nobody says it," she said.
Sheppard, who is a mother of two, is currently working as a customer service manager in the facilities department at UCSB. She enrolled in the class in order to expand her skills and establish more credibility when she interacts with her clients.
Sheppard agrees that the field is male-dominated, but that it should not stop women from wanting to pursue a career in construction.
"You can do this anywhere," she said. "It's nice to do it here in Santa Barbara because of the weather but you can potentially take this skill and go anywhere."
Tana Kincaid became interested in construction after her house burned down in the Painted Cave fire in 1990. Kincaid was exposed to the craft when she started to rebuild her house with her husband. Through the class, her skills have improved and she is now more comfortable doing housework.
"It's fun, it's encouraging," Kincaid said. "You don't need to know anything to be apart of it."
The program is located at Wake Campus on Turnpike Road, together with other noncredit educational programs. These programs do not offer college degrees.
Foster said the lack of women could also depend on tradition. They are hoping to increase awareness about this career path for women so as to get more involved.
"If you are not strong as the guys, you're not going to be a framer probably," he said. "But you could easily be a finish carpenter, a cabinetmaker or work in any office relatable building."
Foster teaches a summer class for high school students in order to expose students to the trade, females in particular.
"A lot of them come here and they don't even know what it is, much less not wanting to do it," he said. "We [also] get women periodically from construction offices. But they're not doing the field stuff."
Julie Hendricks, director of facilities and campus development, has a background in architecture and construction. Hendricks said that the architecture program has lured more women than the construction program.
"I just think there's this inherent 'that's not what girls do', so therefore they're not included in that really early exposure to construction," Hendricks said.
Hendricks started her career as an office-assistant and knew she would do better in the office than out in the field.
"It requires somebody that is very comfortable in themselves," Hendricks said.