The Atkinson Gallery has reopened with yet another beautiful exhibition featuring pieces by contemporary artists. The gallery, titled "Landscapes Part 1," has been open since Nov. 1 and will continue through Dec. 8 on the East Campus Humanities Building on City College campus. 
Despite the exhibition only displaying a few pieces, the viewer's eyes are immediately drawn to the biggest frame in the room as they walk into the exhibition space. 
"Veduta (Bonnard Mediterranean Mid Morning) Triptych," by Whitney Bedford was easily my favorite piece in the gallery. The piece used ink and oil on linen on the panel, and was almost 10 feet long with all the panels put together.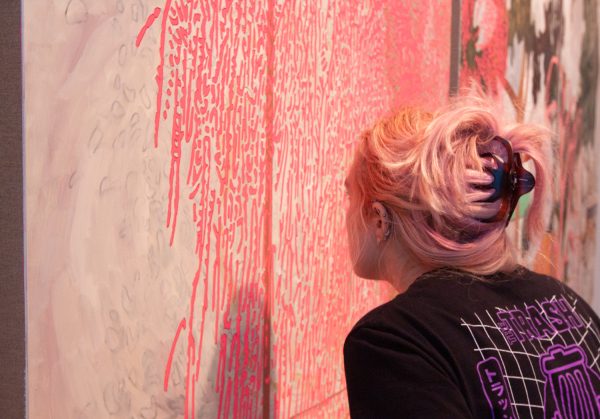 The pink designs in the far left panel are what grab your attention first, contrasting the rest of the paintings more neutral tones and colors. It almost reminded me of a giant fingerprint on the page with pink paint, but when you look closely, it's not paint at all, but a collection of small shapes that have been carved out of the dry layer of oil paint. 
Bedford has created other pieces with a similar method, and this one was by far the most interesting in the gallery.
Each artwork in this collection depict some type of landscape, whether it was woven, like Diedrick Brackens' "Stealing dark from the sky," or painted on multiple different canvases like Jonas Wood's "Four Landscapes."
"Stealing dark from the sky" is easily the second largest masterpiece, but is more textured than the others, being woven using cotton and acrylic yarn. This piece was a lot more textile, the pieces of yarn expertly placed to show the silhouette of two people and a distorted figure of a shining moon above them.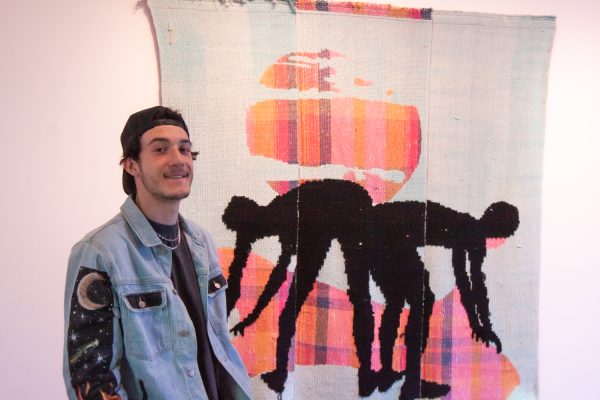 It was very similar to Bedford's painting, having three separate pieces put together to create one big feature, but I found it very interesting to see how they had been placed differently depending on the material that they were made of. 
The artists in this first half of the show have definitely gone above and beyond, creating pieces that even audience members who do not know much about art, like me, can enjoy and admire. There will also be a second half of this exhibition, "Landscapes Part II," which will be open to the public from Jan. 22 to Feb. 28 featuring six new artists. 
"Landscapes Part 1" will be open to the City College community until Dec. 8, Mondays through Thursdays from 11 a.m. to 5 p.m. It is also open on Fridays from 11 a.m. to 3 p.m., and it is definitely worth the visit.
Correction: Nov. 27, 2023
An Earlier version of this story misstated a characteristic of the featured artists by referring to them as "student artists." The artists featured in the "Landscapes, Part I" exhibition are not City College students, but professional artists. The Channels regrets the error.
Story continues below advertisement