Faculty, students, and guests were given a free history lesson when gathered for an exhibition focused on Chicano studies at the Atkinson Gallery from 4 p.m. to 6 p.m. on Wednesday, Sept. 6 at City College.
Thomas Carrasco, an American ethnic studies professor at City College, was the mind behind the event. 
 "This is my love letter to Chicanos, Mexicans, Latinos, El Salvadorans, and Central Americans," Carrasco said, gesturing to the walls of his exhibit.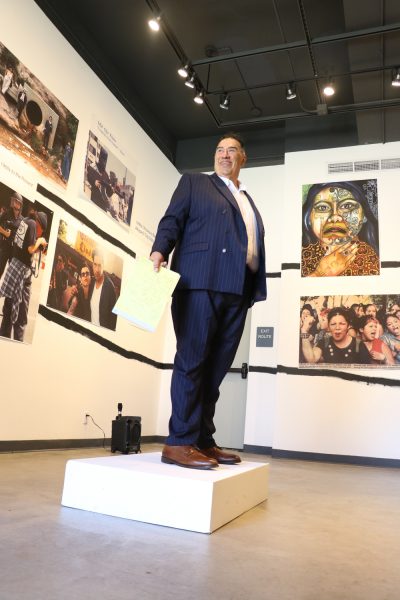 The study and history of Mexican Americans in the United States, otherwise known as Chicano studies, was the main focus of the event, which took two years to put together. The exhibit opening started with an introduction from Carrasco, who stood in the front of the room to introduce  himself and welcome all those who joined. He walked the audience through each printed photograph with the earliest dating back to 1050 BC, and told the stories behind them. He educated attendees on the events depicted including the Mexican revolution, the industrialization of the Southwest, and the Mexican-American war.
Story continues below advertisement
 Carrasco's goal in this was to show what the culture has been through. The photos were mounted on all four bright white walls of the room with a black painted line going through them. According to the ethnic studies professor, this was to show the concept of ancient time and that there is no beginning, middle, or end to this specific culture. 
A comedy act abruptly took place shortly after, where Susan, Carrasco's sister, wore an American flag dress adorned with a big red bow and played the role of Kamala Harris and Elias Serena dressed as Chad Castro, a satirical caricature of former Cuban president Fidel Castro. The political satire act ignited loud laughter and clapping from the audience. Carrasco chose these specific characters to use in his exhibition in order to show the burning issues he believes are present within the culture.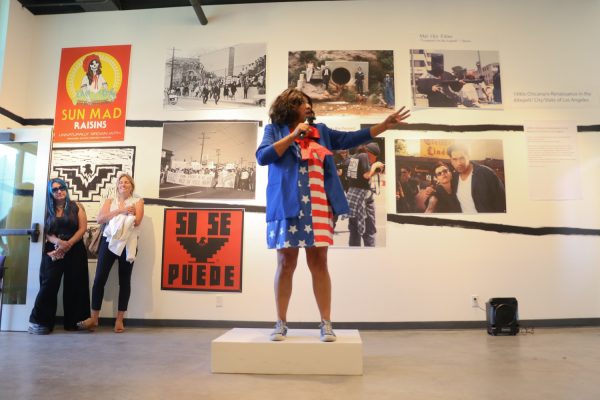 "Mexicans are not immigrants to the Southwest, we are indigenous to the Southwest," Carrasco said, explaining one of his major concepts from the class he teaches. 
The inspiration behind Carrasco's drive to do this project was his own ancestors. His grandfather, mother, and grandmother held a very large influence on his main idea of time in his showing. He has academic knowledge in the culture as he currently teaches with his bachelor's degree in both political science and Chicano studies that he obtained from San Diego State University, his masters in ethnic studies from University of California, Berkeley, and his PhD in Chicano and Chicano studies that he received from UCSB. Carrasco's goal through using the photos that he chose was to be able to connect the past with the present. Carrasco says that Chicano culture is present in Santa Barbara, but it's not represented well and this was his attempt to do so. The professor hopes people's biggest takeaway is to be proud of their culture, since he was inspired to create the exhibition in hopes that those who are a part of Chicano culture become active members and citizens in society. 
"It is interesting learning what our ancestors went through during those times and I think by learning it now we are going to have a better aspect of it and I am just really excited to learn more,"said Isaac Diaz, a sophomore at City College majoring in Communications. 
Once the event came to a close, taquitos were offered on Carrasco's behalf and people had the opportunity to speak to the professor  and ask him any questions they had.