Six Oscar-nominated women joined together in a panel discussion regarding their rightful roles within the film industry at the Santa Barbara International Film Festival on Saturday, Feb.11. 
The panelists consisted of women who covered various disciplines in film production, while earning multiple Oscar nominations and awards. Moderating the panel was programming director of the festival, Claudia Puig, who initiated conversations surrounding inspiration, stereotypes, and progress.
One of the six women, Ruth E. Carter, a costume designer who has been recognized with four Academy Award nominations, one of those resulting in her 2019 Oscar win for Best Achievement in Costume Design for the film "Black Panther." This achievement also deemed Carter to be the first African American to win this award.
"I do see a bit of a growth in inclusivity in this industry, I mean look at us here today," she said, scanning the stage of women.
Story continues below advertisement
In an effort to redefine womenswear throughout the film "Black Panther: Wakanda Forever," Carter incorporated afrofuturistic wardrobes in accordance to the characters of the movie. "It honored the female form by having elements that redirected the eye towards a new standard of beauty that wasn't in your face," she said.
On another corner of film production, Hannah Minghella, producer of  "The Boy,​ The Mole, The Fox, and The Horse," conveyed her appreciation for filmmaking. 
"I think when we can tell stories that feel like they have a purpose, and something of value into the world, it makes it even more of a privilege and of a gift," the producer said.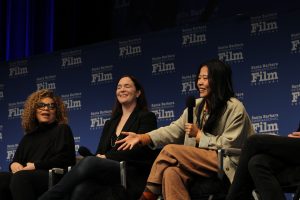 Among other panelists, director Domee Shi shared her experience with creating films. Shi works for Pixar Animation Studios, winning an Academy Award for her short film "Bao," as well as directing and co-writing the feature film "Turning Red."
"I really wanted to make 'Turning Red' for that 13-year-old me who was just searching for herself in media, but couldn't see herself," Shi said.
Growing up, Shi was primarily exposed to films with unrealistic standards for their female characters. "At the time it was just princess movies, it was movies about these perfect, beautiful, skinny, girls with huge eyes, big lips," she said.
A significant source of inspiration for Shi later came from the film "Spirited Away," by Hayao Miyazaki. Here, the film's protagonist honors the features of any ordinary girl, a lot of which Shi connected deeply with.
Throughout the panel, the themes of admiration and desire for each woman's individual role in the film industry took precedent. Although these professions have lived through a more male-dominated scene, these women have broken barriers time and time again.
"We have a right to be here," Carter said.