The Theatre Group at SBCC drops into the fall season with 'Ripcord'
The Channels Art Pages | CRITICAL REVIEW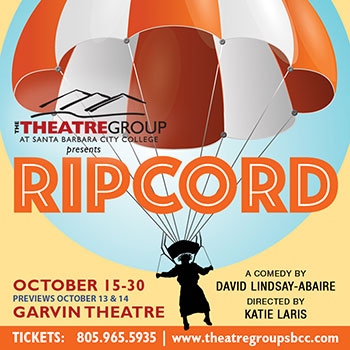 The Theatre Group brought out laughs, scares and heartfelt moments at the preview of "Ripcord" on Wednesday, Oct. 13. 
Directed by Theatre Arts Department co-chair Katie Laris, this peculiar but dynamic play written by David Lindsay-Abaire switches between realism and fantasy. "Ripcord" — which opened at the Garvin Theatre starring Leslie Ann Story as Abby and Ann Dusenberry as Marilyn — is a play about uneasy topics, but one that provides the audience with constant chuckles. Resentful family isolation and domestic violence are only a couple of the plot's focal points. The possibility of near death for its elderly characters also lingers throughout.
As the play begins, grouchy Abby thinks she has no choice but to get rid of her optimistic and chatty roommate Marilyn, who only looks for the good in everyone. 
Going through a Halloween haunted house brings both to make a bet. 
Marilyn insists nothing ever makes her angry and Abby says she never gets scared about anything, so if Abby is able to make Marilyn angry, Marilyn will move out. If Marilyn scares Abby, Marilyn gets to take Abby's bed which is located right next to the window and is where the sun hits the most. 
What was supposedly a harmless bet quickly developed into a dangerous parade of one-up's and practical jokes.
Throughout the play, the stage was beautifully designed as a double room at the Bristol Place, with many of the characters' personal items bringing the play to life. A bathroom with a working sink, two cozy twin beds that make you want to crawl in and sleep on them and plants all along the windowsill stand out in each scene. 
The play celebrates release, whether it's release from what's been holding a person back, a situation not working anymore or from concerns that lead to a more positive and content future. 
After a long day, getting lost in the play was a wonderful escape from busy life. For those looking to let go of their day-to-day responsibilities and feel as if they're engaging with these characters' lives, this play is worth the watch.
"Ripcord" starts today Friday, Oct. 15 and continues up to Sunday, Oct. 30 at City College's Garvin Theatre.