As more people begin to fill the Garvin Theatre, lit up with swirling floral patterns and colored circle projections, the Music Now concert director, James Watson, walks out and begins his humble introduction. After emphasizing the amount of talented City College students and describing the various genres that will be heard during the evening, he concludes simply: "it's all here."
As the lights went down, vocalist Mary Langhorne and pianist James Grotenhuis walked onto the stage to perform a gentle ballad appropriately titled "Beginners Lucky," which eased the audience into the evening.
Local singer-songwriter Jazara Hutton then followed up with two original songs, showcasing her piano driven song "Ex-Lover" and an acoustic track titled "Borderline." Both tracks embraced her vocal range and made her solo presence even bolder.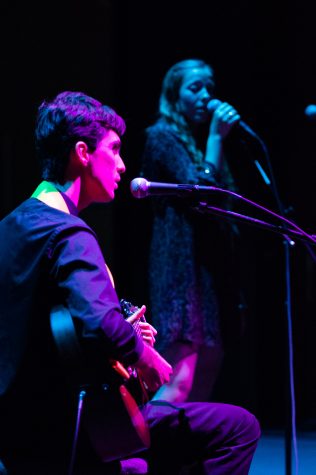 A surprise acoustic cover of The Beatles' 1968 classic "While My Guitar Gently Weeps" followed, featuring City College vocalist and guitarist Kellen Romano and harpist Ginger Rose Brucker's vocal debut. Although Romano's guitar level was too low in the sound mix, his vocal harmonies with Brucker were hauntingly beautiful, echoing across the theater walls.
Story continues below advertisement
Toward the end of the first set, the magnetic female vocalist Ciara Tolliver seamlessly delivered Vulpeck's "Wait For The Moment" as if it was one of her own. Then modest solos from both bassist Julian Littlehale and guitarist Sam Scherz were played over Charlie Vincent's driving piano progression.
After intermission, the second set presented darker themes with student composer Amin Sarrafi's classical pieces "Untitled" and "Beyond The Brink," performed by pianist Em Martel and violinist Carmalisa Jorquia. Directly afterwards, the theater boomed with original electronica from Ryan Huntington's dance-y "Dial It Back" and William Callender and Michael Tswang's layered power jam "Météore."
What really lured me back into the second set, however, was the Coachella-ready ambient electronic number "June Bloom" by synth-bass player and beat-creator Gabriel Lawson and vocalist Sarah Jackson. Clearly some were friends of Lawson, yelling "Gabe!" about twenty times before the song even started, with another person adding "Parlez-vous français? Viva la revolution!," making the performance even more entertaining.
Just when I thought the night was getting too safe, the all girl trio Georgia Rose and the Girls Almighty proved to be the ultimate party band that no one had ever heard of. Their garage pop bluntly titled "Best Song Ever" steered people's attention back toward the stage.
Former City College music major and now local producer, Joveth Jorquia, made a special closing appearance with two tracks off his debut
album "Nines Lives" and new single "Wine N' Roses" featuring rapper Enzo Long and another appearance from violinist Carmalisa Jorquia. Although his full band wasn't there, Jorquia still performed along to his "Illusion" music video and a new lyric video for his song "Hater."
Watson returned to the stage and brought all 30 plus performers and sound technicians together for the final bow to the audience, with the special encore saved for vocalist and pianist Kenny Gallindo's original song "Saturn Bound." The cosmic Bowie-esque piano ballad felt like deep space exploration with fluctuating tempos and engaging musical turns.
Those who were there until the very end appreciated the spacious finale, which left them waiting for more.