SBCC theater to wrap up season with Pulitzer Prize-winning play
Starting next Wednesday, audiences at the Jurkowitz Theatre will experience the comedy of a dysfunctional Southern family in City College's Pulitzer Prize-winning play, "Crimes of the Heart."

The play takes place in Hazlehurst, Mississippi in 1969, five years after Hurricane Camille devastated the South. The effects of the hurricane form the backdrop of the play, which is centered on the three Magrath sisters who wait on news of their grandfather living out his last hours in the local hospital.

Michael Gros, theatre arts professor and play director, called the play "a comedy, though one of serious matters." 
Each Magrath sister has committed certain "crimes of the heart" that are investigated in the play. There's Babe (Shay Munroe), the witty and innocent youngest sister who is out on bail for shooting her husband, Meg (Charlotte Bailey), the middle child who is embarrassed of her failed dreams of stardom on the West Coast, and lastly Lenny  (Elaine Pazaski), the oldest sister who we meet on her 30th birthday as she is still unmarried and lost in her life.
"This play goes into the discussion of how families are not always perfect but blood is thicker than water," Gros said, "and also that love matters and is very important."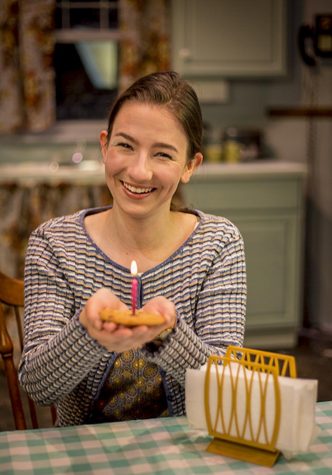 Written by Beth Henley, "Crimes of the Heart" originally opened at the Actors Theatre of Louisville in 1978 and was Henley's first professionally produced play. It won the Pulitzer Prize for drama in 1981, and her screenplay for the 1986 film version was nominated for an Oscar.

Henley stated that growing up with three sisters was a major inspiration for the play. She also used to spend her childhood summers in Hazlehurst.
"I think we can presume her play is ultimately an homage to the memory of the people of her summer home," Gros wrote in his director's notes. "It is told with love, warmth, a bit of heat, and humor."
Actor Nicholis Sheley plays Barnette Lloyd, a 26-year-old lawyer with an old vendetta against Babe's husband. Barnette defends Babe in court to get his revenge on her husband and the two develop a special connection.
"There's not a lot of answers to what happens with Barnette and Babe," Sheley said, describing how the characters' relationship is full of open-ended questions.
"It's so fast and it's so quick and so subtle that there's really not a lot of backstory so you really have to come up with a backstory to figure it out," he said.

Though it has its share of family squabbling, Gros said the play's main takeaway is the strength of the bond between family members.
"If a family member is attacked from the outside, then you should be able to count on family to be on your side and to be there for you and that's very much part of the world of this play," Gros said. "And I think that's something to be reminded of."
Performances are at the Jurkowitz theater from April 13 to 28, Wednesday through Saturday at 7:30 p.m., Sunday April 15 and April 22 at 2 p.m., and Saturday matinees April 21 and April 28 at 2 p.m. Previews are on April 11 and 12. Tickets can be purchased at the Garvin Theatre Box Office at (805) 965-5935 or online.