At 10 a.m. Friday morning, with coffee brewing and jazzy tunes playing off a speaker in Isla Vista's colorful Biko House, art students unloaded pedestals, biological sculptures, paintings, and chips and salsa as they prepared for their midterm—a pop-up art show.

The art show was an event City College's ART 118 "Portfolio Seminar" class had planned on their own, with students having specific roles assigned to them such as curator and public relations representative. After preparing art pieces for weeks, the students displayed their work from 11 a.m. to noon Friday inside the Biko House garage.   

"None of us had seen the place before we got here except for the few students that booked the space," said Sarah Flores, a student in the class.
The theme of the show was "visceral feelings," which the class decided on together. All of the students approached the theme differently and submissions for the show included sculptures, prints, 2D and 3D paintings and drawings, woodworks, and plaster works.
Story continues below advertisement
Tara Duffy, who lives in Isla Vista, presented a piece she calls "Migrants," a collection of multi-colored, glazed ceramic butterflies, each approximately 3 inches wide and 3 inches long. All of the butterflies are placed on a platter facing the same direction.
"The butterflies are a representation of my vision for the world I want to live in: people of all ethnicities, cultures, religious backgrounds, and sexual orientations moving forward together in one fluid motion," Duffy said.
Also living in Isla Vista, Martin Mora used the theme to expose how Isla Vista residents "chase excessive pleasure with lack of moral direction."
Mora's 2D animation decries the current suspects of sexual assault, recently convicted rapists, and drug dealers in Isla Visa, as well as various rappers' violent references to women in their music.
"People in IV love rap, and I think it affects our culture and how we behave," Mora said, "so I pasted various rapper's quotes on my poster.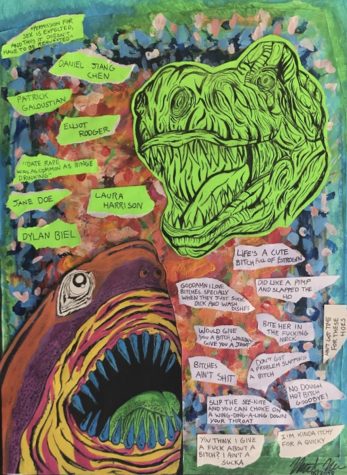 "Since I was also representing rapists and sex offenders, I painted the two worst predators in nature to depict them: the T. rex and the great white shark," Mora said. He calls his piece "Trifecta of Debauchery."
Other pieces explored death, the cruelty of the dairy industry, the difficulties of staying true to yourself, self-acceptance, and women's rights.
"The pieces are diverse. I think the exhibit offers something for everyone," said Brittney Egger, a City College student who came to support her friends in the class.

ART 118, taught by Christopher Ulivo and Armando Ramos, is a class that gives students the opportunity to create, document, and edit their own works of visual art to incorporate them into a professional portfolio.
Ulivo and Ramos designed the showcase assignment to show students what it takes to organize a pop-up in the real world.
After all the guests left the show, the students took a few moments to tour their own gallery and admire the work of their fellow classmates.
"I think it came together really well in the end," Flores said. "There were obstacles, as to expect with any event, but I'm happy with the exhibit."