SBCC The Channels staff reviews unusual downtown experiences
Cat Therapy
Reviewed by Seychelles Mizel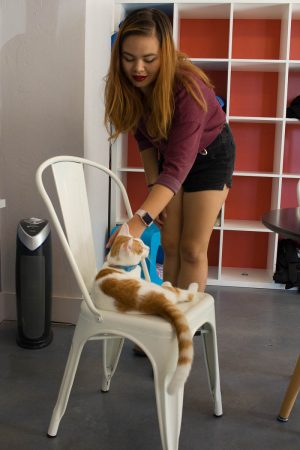 Across from the Granada Theatre on State Street lies Cat Therapy, a small room filled with adoptable cats to play with while you drink coffee.
Let's be real— I'm not a cat person, and cats aren't fans of me. I pictured the $12 price of admission to be the last dollars I'd ever spend, and the steps I took through the door to be my last.
I was given 75 minutes with 13 cats from various shelters who slowly crawled around as they awaited finding their forever home. There were several toys and chairs for customers, so I sat on the floor petting a few of the sleeping cats.
While I waited for my coffee, I played tug-a-war with an energetic feline named Jinx.
Then came Earl. I was hesitant to go near him because he was huge and had a mean facial expression. He plopped into my lap like a toddler. I felt myself calming down, but I was still planning my obituary titled "Death by Cat Attack."
Breakfast Culture Club
Reviewed by Naum Milyavskiy

Looking for a good breakfast restaurant? Don't go to Breakfast Culture Club. Not because they serve bad breakfasts, but because, well, they don't really serve breakfast.
Breakfast Culture Club (or simply "Breakfast") on Chapala Street in downtown Santa Barbara is a place that eludes labels. By its menu, you can judge it to be a typical coffee shop, but beyond that it is an art gallery, a clothing store, a bookshop, and even a surf shop—albeit with a limited selection of surfboards (can you blame them?) Oh yeah, and the space is located in a renovated auto-body shop.
Besides coffee, Breakfast actually does sell a few small breakfast items like croissants and "avo-toast," a staff favorite. But it's not enough for some customers, who walk in expecting a full English breakfast, and walk out ready to slam the café on Yelp.
Although the local Handlebar coffee is pretty tasty, the food and drink at Breakfast are really just a sideshow. What Breakfast really offers is a gallery space for local artists, and a cool mini-hub for the local downtown community.

Goa Taco
Reviewed by Josie Fialko

A unique new take on the traditional Mexican taco has found its way from the East Coast to the streets of southern California, incomparably fusing together the tastes of worldly traditions to create their undeniably flavorful cuisine.
Right in the heart of downtown Santa Barbara, lies the new Indian-style taco restaurant called Goa Taco, located on State Street.
Their menu presents a wide variety of their own original tacos, which all include a multi-layered Indian flatbread, called a paratha, instead of the traditional Mexican tortilla.
All of the complementing ingredients of each taco are enclosed in its own mouthwatering, buttery paratha, giving each item its own unique flavor. The flaky flatbread, along with the surprisingly appetizing blend of ethnic ingredients, delivers an experience of a new bit of deliciousness in each and every bite.  
The trendy new restaurant, with its prime Santa Barbara location, is sure to be the next spot for locals looking to add a little twist to a tradition as important to the southern Californian as Taco Night.