SBCC theater premieres student driven 'Dead Man's Cell Phone'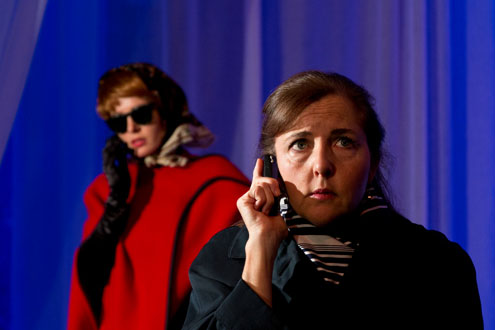 The City College version of "Dead Man's Cell Phone" premieres at 7:30 p.m., Wednesday, April 17, at the Jurkowitz Theatre.
The comedy was written by playwright Sarah Ruhl in 2007 and is directed by Katie Laris, co-chair of the theater department.
"We wanted to pick a play that is modern and that people can relate to," said Laris in a phone interview. "We've been rehearsing every single day for seven weeks and it's been great. It's going to be a fun show."
The play starts out in a café where a man's cell phone keeps ringing. The woman at the table next to him starts getting annoyed since the man does not pick up. After countless tries of getting his attention the woman makes her way over to his table.
Before the woman, Jean, discovers that the man, Gordon, is dead she decides to pick up the phone for him. After she realizes this, she decides to keep his phone in order to be able to let his friends and family know what has happened.
Jean slowly starts falling in love with the dead man, or the idea she has made up of him. She also becomes addicted to the cell phone and soon realizes she needs to find a way to break free.
There are three former City College students participating in the play. Justin Stark, Jenna Scanlon and Brian Harwell are among the cast of six.
Stark has been involved in theatre since the age of 14 and has been part of past City College productions, such as "The Foreigner."
Scanlon, playing Jean, has been in countless plays, the most reason was the part of Gabriella in "Boeing, Boeing" and Hannah Jarvis in "Arcadia."
Harwell, playing Gorgon, has been part of over a dozen City college productions such as "A Midsummer Night's Dream" and "Twelve Angry Men." He has also won several Santa Barbara Independent Awards for his performances in plays like "I Hate Hamlet" and "The Designated Mourner."
The play will run through May 2. Tickets are $8 for students, $13 for seniors and $16 general. For more information on tickets visit their website.