Review: Becky's New Car: 'Crowd doubled over with laughter'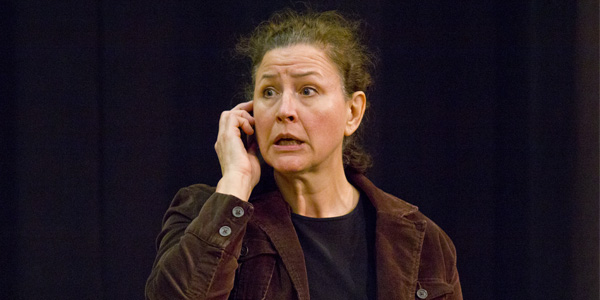 A family comedy set in modern day Seattle gives the perspective of a woman caught in an affair and asks the question: What does a woman really want when she asks for a new car?
"When a woman says she wants a new car, what she really wants is a new life," said character Becky Foster, played by Leslie Gangl Howe.
Before the audience knew it, they were chasing Becky through an affair that she had just tricked herself into—an affair that would change her life for the better.
With a full audience, Becky's New Car had its opening night on Wednesday, April 25, in the Jurkowitz Theatre. The original play was written by famous playwright Steven Dietz and directed by Katie Laris, co-chair of the theater arts department.
After having stumbled into an affair with millionaire Walter Floods, played by Martin Bell, the viewers follow Becky Foster on a journey to redemption through binding her marriage back together and bringing happiness back into her life.
As if Becky's affair troubles aren't enough, she also has to return home to her goofy, husband, played by Tom Hinshaw, and 26-year-old son, played by Josh Jenkins, whose psychology major is burning holes in her hopes for him.
Not only was the acting phenomenal, but the relationship between the cast and the viewers is different than any other play conducted by the City College theater department.
With the witty dialogue and interactive nature of the play, the audience swept up Becky and the rest of the cast from the get go and embarked on her life-changing journey through her mischievous means.
Regardless of the trivialities in Becky's life, the audience found her story to be real, compelling and relatable.
The crowd was doubling over with laughter. And, every time Becky reached out to an audience member, they graciously played back.
The performances, both from the audience and the cast, were a flawless presentation of difficulties faced by most. From not being able to keep the house clean to sensuous and hidden affairs, people can pull a piece of themselves out of the small production.
The comedy is scheduled to run from April 24 through May 11 in the Jurkowitz Theatre. Tickets are available for prices from $8 to $23.