Stadium rentals could bring in cash as SBCC faces budget deficit
City College is searching for ways to ease a growing budget deficit, and La Playa Stadium may just hold an answer. 
"Our new president Dr. [Utpal] Goswami has communicated that he'd like to see people rent the field and maybe even have bigger events at La Playa to help bring in money for the college," said Athletic Director Rocco Constantino.
As the college's budget deficit grows to $4.3 million, Director of Auxiliary Services Paul Miller says it is time to rent out City College's facilities and market them to the community.
"[Rentals] are going to help us out a lot," said Miller. "Not a lot of advertising has been done in the past."
La Playa Stadium rentals are offered free of charge to the City of Santa Barbara and the Santa Barbara Unified School District, per a joint-use agreement between the junior college district and the city. Additional security, custodial and supervision fees costing around $1,500 are the only dues required from the renter. Bishop Diego and Santa Barbara High School, whose Peabody Stadium has been under construction for over two years, have both hosted recent sports games at City College.
"The only frustrating thing at times can be our athletic schedules, [which] don't get released on any consistent basis," said Constantino. "Bishop Diego has already sent us their requests for football dates…[but] we don't have our football schedule yet."
Constantino will look over the paperwork from schools and organizations looking to rent out La Playa, and alert the party if there are any conflicts.
"We want to be very good neighbors. We want to attract their students to come [to City College] from the local high schools."
City College uses local high school facilities often, notably Santa Barbara High's pool for Swimming and Diving practices, and Water Polo games. 
After that, the college gives nonprofit and for-profit organizations the ability to rent at different prices.
"Recently there's been a transition in the [City College] facilities department which seems to have expedited our understanding of the availability of the space," said SBHS Athletic Director Joe Chenoweth. "Whereas before we'd sit and we didn't know we locked it in or not which is a little concerning."
Charging more for a wide array of events at the stadium will help City College solve its budget crisis.
 "We're about to go to first-round interviews…to hire a special events coordinator [to] put the events together and make sure the right people [from City College] are at the events making sure they run smoothly," he said.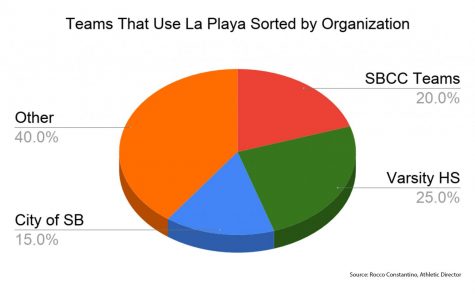 La Playa, which overlooks the ocean, seats around 6,500 and features conference rooms and a five-year-old track. The field's aging turf will be replaced this summer, temporarily relocating team practices.
Additionally, the facility functions as a classroom for City College's numerous physical education courses.
"We have as many or more phys-ed classes there than practices," said Athletic Director Rocco Constantino.
La Playa has a rich history. The stadium has hosted track and field athletes for world record breaking feats in the 100m, pole vault and shot put events.
La Playa also housed the football team of Santa Barbara State College, now UCSB, from 1938-1965.
Perhaps the biggest event in recent memory came in July of 2017 when the New York Philharmonic performed on the field. Fireworks followed, but the awe-inspiring event came with downsides that will be analyzed if bigger events return to City College. 
"It's kind of hard to do…When we had the philharmonic we had to relocate our athletic teams for a full week," Constantino said. "I think there's potential to have things like that here, the [biggest] issue was…[the trucks] ended up crushing our drainage pipe underneath the turf…Luckily we haven't run into any major [flooding] issues."
If the kinks can be worked out, the college could use La Playa as a source of much-needed revenue.