New Bookstore Director's profits are student success stories
The City College Bookstore is changing to suit the modern needs of students and staff.
Paul Miller, the new Bookstore Director, is putting in a lot of effort to make the campus Bookstore a better and more convenient place for every customer. Miller was hired last semester to redesign and redirect the Bookstore.
"When I saw the job advertisement, I thought this would be a fantastic job because I always wanted to work in an environment like this," Miller said.
Miller grew up in Santa Barbara and went to City College for five years. He studied Hotel and Restaurant Management, and earned an associate degree in Liberal Arts.
"I have been in the food related industry since I was 15," he said. "Either food or hospitality."
When he was hired as the Bookstore Director, he already had a lot of retail experience though his previous career.
"I worked for 12 years for Starbucks Coffee Company and that was one of the best jobs I have ever had," Miller said. "I had 12 stores that I took care of as a district manager. I also used to teach classes about customer service for Starbucks."
Since becoming the director at the Bookstore, Miller has spared no effort to improve it. To carry a wider variety of goods, Miller and his staff researched what students prefer. The employees go out on and off campus and look into what the people in the generation wear or have and what activities they do.
Amanda Hall, student staff at the Bookstore, said Miller is really cool and has a bunch of good ideas to renew the bookstore.
"I wanted to bring this bookstore into this century," Miller said. "We want to have things that the customers are interested in."
Miller said he wants the bookstore to represent City College pride.
"I want to make sure that everyone understand that we can represent it [pride] through the products that we have," said Miller. "We are going to put City College stuff right in front of the entrance so that people can feel like this is our City College bookstore when they come in."
Miller knows students generally don't have much money to spend since schooling is so expensive. He is focused on providing the best products at the lowest price. He knows the Bookstore has a retail ability to have a lower margin than private stores.
"All of the profit is not very much, but what the bookstore makes goes right back to the college," he said. "It supports the students' lives, many departments on campus, and a lot of what you see here."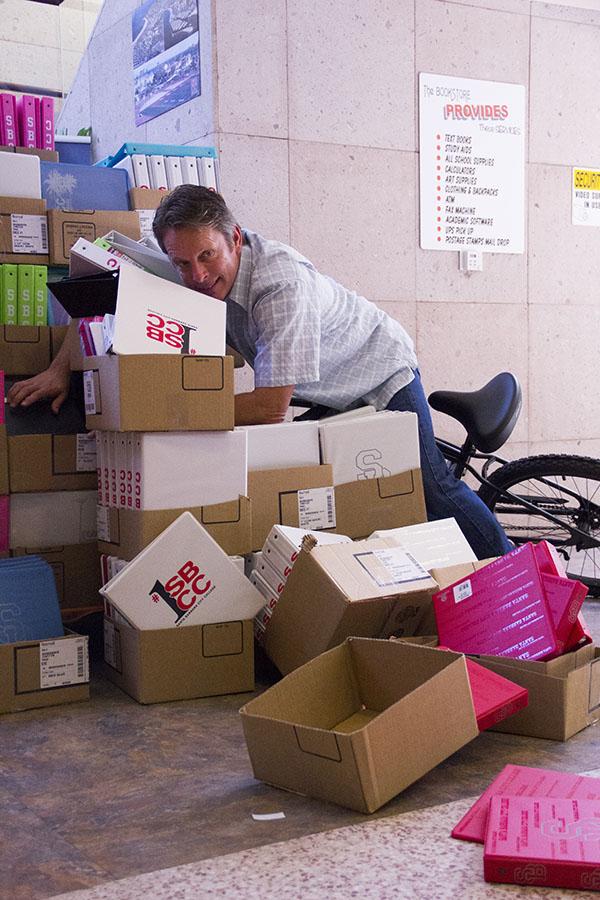 One of the things that support student life is selling bicycles. The store started selling bikes to provide a way to get on campus without a car and to help settle the parking issue. He is working on selling electric bicycles and scooters also because the campus is on a hill.
To promote bike sales, the Bookstore held a give-away of a seven-speed Electra Beach Cruiser at the beginning of spring semester. A City College student, Samantha, won the bike just by visiting the Bookstore.
Miller is also planning to have a self-service copy shop and mailing service like a miniature of FedEx. He is looking for a copy and fax machine that all the students and staff can use with coins or a student's card. The Bookstore has already been mailing and shipping for the online orders, but they will accept any items and send to everywhere in the worlds in the near future.
"I like the campus bookstore and I go there often," said City College student Sannie Nguyen. "The people are very nice."
Miller wants to make the bookstore a hub for the students and staff on campus. He also hopes the bookstore will become like a third place for everyone.
"I hope the bookstore will be a place where you want to go, not have to go," Miller said. "Everything you need should be in here, in the bookstore, and that is my goal."