Chris Aichinger broke SBCC pole vault record twice in one day
While most students spend their weeks jumping over obstacles of schoolwork and grades, Chris Aichinger spends his jumping over new heights and breaking school records for the City College track team.
Aichinger is a freshman pole vaulter from Santa Ynez. He sprung over his competition Friday, March 31, in the Western State Conference Coastal Meet at Cuesta College. Aichinger broke the City College pole vault school record twice in one day.
"I did feel like all along one of them was gonna break the school record," pole vault coach Bill Whitaker said. "When Chris started getting confident and started getting on much bigger poles, that was when things changed."
The freshman's record-breaking jump also moved him up to No.7 in pole vault state rankings. He's been busy this season winning three track meets and placing in the rest.
"Seeing him jump high makes me wanna jump high and I think [to] everyone else it brings like a certain energy to the atmosphere, you know," teammate Jimmy Graves said.
Aichinger came close to winning the City College Easter Open meet, tying for best height at 15-6¼, but lost on misses.
Aichinger went to Santa Ynez High School where he played varsity tennis and soccer. He started pole vaulting his junior year and finished his high school career at 14 feet, making it to California Interscholastic Federation finals.
He attended UC Santa Cruz last year but didn't compete so he could focus on school.
Aichinger transferred to the City College because his dream school is UCSB, and transferring from UC Santa Cruz to UCSB was proving to be a huge struggle.
"Hopefully I could continue jumping at UCSB next year," he said. "I actually got accepted a couple days ago based on admissions [and] I'm in contact with coaches there so hopefully I could keep it going."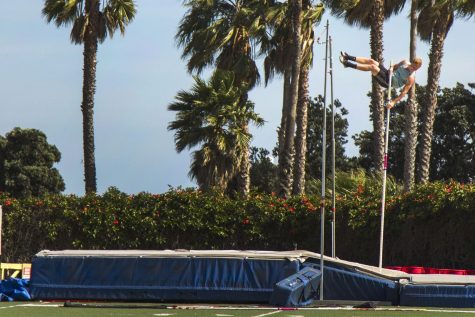 Aichinger wants to study medicine, which means he's taking a lot of hard classes. However, he uses sports as relief from the stress of everyday life as a biology major.
"It is definitely a struggle," Aichinger said. "But sports help free your mind a bit, get away from the academics every once in awhile so that's nice."
Coach Whitaker said that Aichinger has also helped his coaching improve. Aichinger had a technical flaw in his jump that was hurting him so he had to learn how to fix it.
"He's been like my project to fix that part of the jump and he's really fixed it so he's made me focus on a part of the jump I haven't had to focus on," coach Whitaker said.
When he's not hitting the books or working on his new goal of breaking 16 feet, Aichinger enjoys spending time with his friends, and sometimes even spearfishing.
"We both go spearfishing a lot so that was kinda how we connected too just going spear fishing and hanging out outside of track," teammate Kyle Whitaker said.
Whitaker, son of coach Bill Whitaker, is Aichinger's training partner and one of his best friends. They push each other in practice and at competitions to reach new heights.
"We're both working on different things here and there you know we're obviously in different stages," Whitaker said. "But seeing him jump a little bit higher than me, it frustrates me, but in a good way. It pushes me to want to jump higher."
Aichinger's hard work and commitment has led him to breaking a school record and ranking No. 7 in state. He looks forward to breaking 16 feet and qualifying for the California Community College Athletic Association State Championships in Sacramento next month.
"I hope that this season he hopefully can get to the state meet and maybe win," coach Whitaker said. "He's ranked seventh in the state so it's anybody's day once you go there."