The City College women's golf team wrapped up their near perfect season on Nov. 24, finishing 2nd in the state, behind Sierra College.
The loss in the state finals was the only match the Vaqueros dropped all season, leaving them with a record of 99-1. The Vaqueros carried a six-stroke lead heading into the final round of the state finals and ended with a total score of 621 to Sierra's 613.
"It was a tremendous amount of fun for me as a coach," said head coach Chuck Melendez. "It's the kind of team that you want every year and every season. There's always things that can go wrong or right on a team and everything went right until the very end."
In the individual category, Carolin Chang, a sophomore, captured her second straight state women's golf title from the California Community Colleges Athletics Association, becoming the first WSC player since 1996 to win back to back State championships.
Story continues below advertisement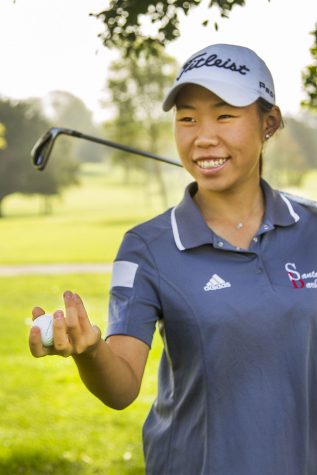 "It was definitely a really fun season," said Chang, who is transferring to Cal State East Bay next year to continue her golf career.
"My teammates were always really supportive no matter whether I did good or bad," she added. "They worked really hard and always wanted to practice and get better."
Freshman Vanessa Watkins tied for 6th place in the state individual category and sophomore Danielle Picard tied for 15th, while posting her lowest score of the year (84). Sophomore Savanah Boss finished closely behind Picard in a tie for the 17th spot in the state.
The Vaqueros went undefeated (14-0) in tournament play throughout the season and at one point had a 20-match win streak that dated back to October 2015.
"They were really driven and smart and we really bonded together," said Melendez. "To see the joy of competing and getting better is always very fulfilling for a coach."
Melendez has spent 17 seasons as the coach of the women's golf team and has collected plenty of accolades during his tenure. He has won the WSC Women's Coach of the Year award six times as well as four state titles.
He has an overall record of 532-174-1 as the coach of the women's golf team and has had a player take home the individual state title in each of the team's state championship seasons (2006, 2008, 2013, 2015).
"He was such a great motivator and encourager throughout our season and he always had great advice for us before and during our matches," Boss said. "He was continually proud even when we didn't play well, and we were really thankful to have such a great coach."
Melendez has already started scouting new players to bring in for next year's season with the goal of keeping the winning tradition alive at City College.