Women's swim and water polo teams flourish under coach Roth
Brian Roth took the role of coaching the women's aquatic program at City College back in 2014 in order to help local girls become strong independent athletes.
Alongside Athletic Director Ryan Byrne and Ellen O'Connor, Roth took on the responsibility to create the women's water polo and swim team, after a Title 1X study showed that women were underrepresented in City College's athletics.
"In reality more men participate in sports than women," Roth said. "I wanted to provide a really strong and safe environment for women to improve their confidence and character."
The teams have had great success since they began in 2014. Named coach of the year, Roth has led the women's swim and water polo teams through a new journey. The swim team won third place in the Western State Conference and placed 12th in state in 2014, but in 2015 the team won first place in the conference and eighth in state.
The water polo team has improved its overall record from 17-13 in 2014 to 20-13 in 2015, and placed in the conference both years, as well as fifth place in the Southern California Regionals.
"The championships are great but when you provide someone with the confidence to succeed it's a greater feeling," Roth said.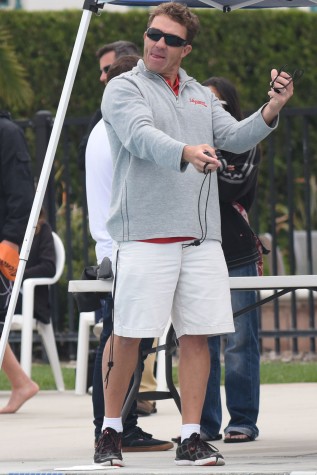 Before coming to City College, Roth was an assistant coach for both men's and women's swim and water polo teams at UCSB. Then he was promoted to head coach of the women's team, where they placed fifth in the country.
At 41-years-old, Roth already holds awards like California Interscholastic Division three coach of the year in 2003 and 2004, as well as conference coach of the year in 2015.
Before the teams were created, young adults in the community had attend either Ventura College or Cuesta College to continue participating in swimming or water polo at a junior college level.
"Any student can bind to something, everyone needs something to wake up to in the morning," Roth said. "I want to help the girls become better athletes and that's possible thanks to the school's financial help."
The first season there were not enough athletes on the teams, but last season the water polo team had a maxed out roster and had to make some cuts. The swim team this season has the largest team in the conference, making this the third time since the creation of the women's swim and water polo team that City College has the most athletes.
The recruitment system has gotten stronger and coach Roth said he feels confident that the teams will only get stronger in time.
"He takes the time to get to know the athletes personally and is a great caterer to them," said assistant coach Micaela Velasquez.
Two practices are held throughout the day to accommodate the athletes' schedules. Although that does mean that Roth and his assistants have more work to do, the schedule suits better with the girls' free time.
"Many athletes juggle around school, jobs and have money concerns, and yet dedicate a lot of time and commitment to the sport," Roth said. "There are so many things that the athletes juggle around that as a coach I need to be able to understand and sometimes help with."
Freshman swimmer Lili Talkin describes her coach as "upbeat, happy and helpful."
"He motivates us to work harder and swim faster," she said. "He always challenges us, but will do whatever he can to help us when needed."
Roth knows that all the girls not practicing together can be seen as an issue, but by having different practice times more athletes are able to participate in the program.
"I'm very thankful for the opportunity, the team has accomplished so many things," Roth said. "Although [the athletes] don't have a pool at City College, they drive to and from San Marcos everyday to practice because they love what they do."