SBCC women's basketball beats Bakersfield to stay undefeated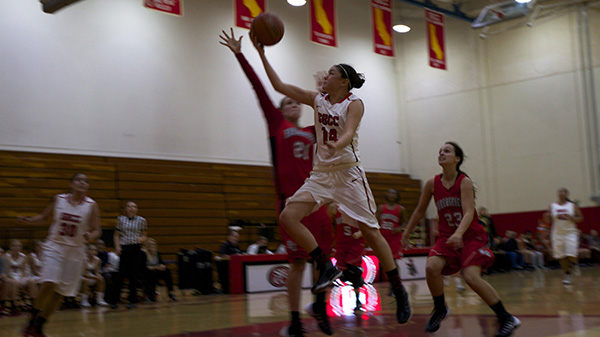 City College women's basketball put up the highest number its seen on the scoreboard in four years for the third home win of the season, 100-83, Tuesday, Nov. 19, at the Sports Pavilion.
The last time the team scored over 100 points was in a game against Allan Hancock in 2008. Head coach Sandrine Krul said the high score was because of her team's underlying principle.
"For us, it's just doing our philosophy: pressing, pressing, pressing, defensive intensity to offensive freedom," said Krul.
The lady Vaqueros fully embraced this philosophy in the second period, but first had to dribble out their jitters and find their rhythm.
The first period saw foul after foul as the Renegades aggressive play caught up to them. Only a few minutes into the game, Bakersfield had racked up four fouls against City College.
Despite Bakersfield's aggressive qualities, the Vaquero women continued to score and eventually had a 20-point advantage.
Bakersfield collected their offense and put up a few shots, but it wasn't enough to catch up to City College. The score at half time was 47-37 Vaqueros.
Before the second period began, Mhiah Vickers (No. 23), said the team needed to make a few adjustments.
"We had to refocus," said Vickers. "They were scoring on us, and we had to stop that."
With only a few minutes into the second period, Bakersfield saw double as Darla Morales (No. 22) passed to twin sister Andrea Morales (No. 15) to make the score 60-47.
The lady Vaqueros unleashed shot after shot, eventually putting a 27-point spread ahead of the Renegades.
Krul said this spread rooted from her teams philosophy, as well as her choice to play every member of her team.
"I played all 15 players, and 14 out of 15 scored," said Krul. "That's our philosophy; it's a team game."
As City College approached 95 points, Bakersfield made sure to tighten their defense. With a free throw shot and a lay up made from City College, the score was 98-83 Vaqueros.
With 23 seconds left, Mizhrua Bautista (No. 32), dribbled her way through the Renegades defense for a lay up, making the final score 100-83.
Jasmine Mata (No. 14) scored a career high of 26 points and thought her team played well together.
"We had a lot of synergy and played as a team, and that showed obviously," said Mata.
Mata also said the team showed promise for the rest of the season.
"I think we have the pieces to be better than we were last year," she said. "We're a young team, but we're very smart."
The next home game is at 8 p.m. Thursday, Nov. 21, against L.A Southwest.