Eight Vaqueros sign letters of intent on Spring Signing Day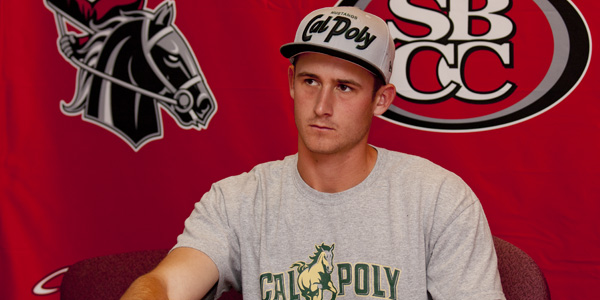 Eight Vaqueros signed letters of intent to four-year colleges on Spring Signing Day .
Baseball, men's and women's basketball and track and field were represented at the event on Wednesday, May 1.
Sara Crane (No. 11), Keia Nobles (No.25), Michelle Herrera (No.33) and Jasmine Johnson of the Vaqueros women's basketball team lead off the signing.
"This is what we worked for," said Crane. "It's why we came to a community college. This was our main goal."
Crane committed to Notre Dame de Namur in northern Calif. where she will study kinesiology. Nobles committed to William Jessup University where she will study psychology. Herrera and Johnson both committed to Eastern Nazarene College in Boston. Herrera will study sports management and Johnson will study communications.
All four athletes were awarded athletic scholarships as well as academic scholarships.
"This moment is about them and their hard work," said Sandrine Krul, head coach for women's basketball. "I am so proud of the four sitting here."
Track and Field's Kaytee Krivulka signed next. She holds the school record for hammer at 146 feet. She committed to Humboldt State University.
"I feel very honored," said Krivulka. "I have some of the best athletic administration people here. They all cheer me on every day and make me try even harder."
Baseball players Zach Zehner (No. 27) and Steven Reveles (No. 3) were the next to commit. Zehner, economics major, committed to Cal Poly. He led the Vaqueros with a .358 batting average. Reveles, nutrition exercise and health science major, committed to the University of Nebraska and was the WSC North player of the year.
"I think we came together as a team and finished off alright," said Reveles.
Jalani Davis (No. 32) of men's basketball finished it off. Davis committed to Notre Dame de Namur and will study as a graphic arts and design major.
"Going here taught me a lot," Davis said. "I learned to fight through all obstacles to get where I want to go."
Athletic Director Ryan Byrne said, "Congratulations to our students athletes for their tremendous accomplishments here,"
"We really appreciate what you've done here at Santa Barbara City College in elevating our program with your efforts."