Former UCSB, high school swim coach to bring skill set to SBCC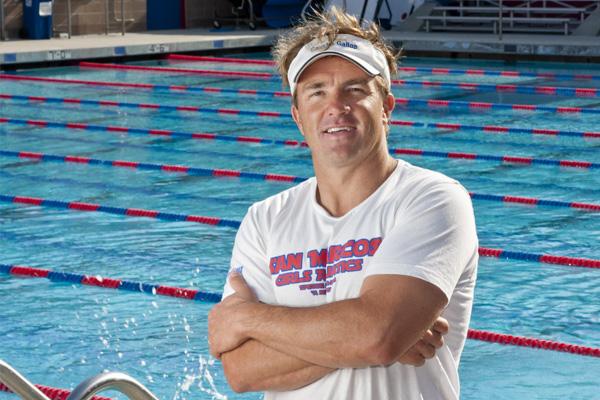 A new head coach with "integrity," "passion" and "impact" is exactly what starting a new program at City College takes.
Brian "Chuckie" Roth has those qualities, said City College Athletic Director Ryan Byrne. He also has the experience to make the new women's swim team a success.
"He's got experience in starting programs from scratch," Byrne said. "It's been incredible what kind of impact he's been able to have on students."
Roth, department chair for physical education at San Marcos High School, has been coaching swim and water polo for 14 years. From 1997 to 2000, Roth was an assistant coach for the UCSB water polo team. Since then, he has coached at Temple City High School and San Marcos High School. In 2005, City College picked him up as the advanced and beginning water polo teacher.
Roth received the Distinguished Educator of the Year for Santa Barbara County in 2012.
"It's all about education and making them more marketable and more confident for what they're going into," Roth said. "… Hard work pays off and dealing with the ups and downs of the team sport … they're a little bit better versed to deal with some of the ups and downs of life.
"That's where I see my role."
The San Marcos Royals beat Ventura High School Friday, April 19, for the first time in more than 10 years. In Roth's first year at San Marcos he had four swimmers compete at league finals. Last year, they had 32.
Along with coaching, Roth will teach an advanced swim class that will be held at San Marcos during the day. It will act as a precursor for the team. The class is open to all students who can participate at the competitive level.
"A lot of people that are swimmers want to go to City College and continue swimming," said Elizabeth Bottoms, senior and varsity swimmer at Santa Barbara High School. "But they weren't able to because there was no program."
Students take advantage of the opportunity to swim at a junior college level, as it is more inexpensive than at a four-year college. Roth said that many students have "this stigma that in order to play college sports you have to go to a four-year level."
With this junior college option, Roth hopes to pave the avenue for students who have been forced to go down to Ventura for a swim program.
"If a kid's going to be competitive at a Division 1 level, I think they should go," he said. "But if somebody's not sure where they stand and they want to continue with this and see what they could be, I think this is a perfect avenue for something like that."
With Roth's position, San Marcos became the obvious choice for the programs home. At this time, City College will only be offering women's swimming. An organizational meeting on Thursday, May 16, will determine local interest in adding women's water polo.
"The opportunity to work at Santa Barbara City College– I wouldn't pass that up in a million years," Roth said.