Vaqueros softball pitches rainy day shutout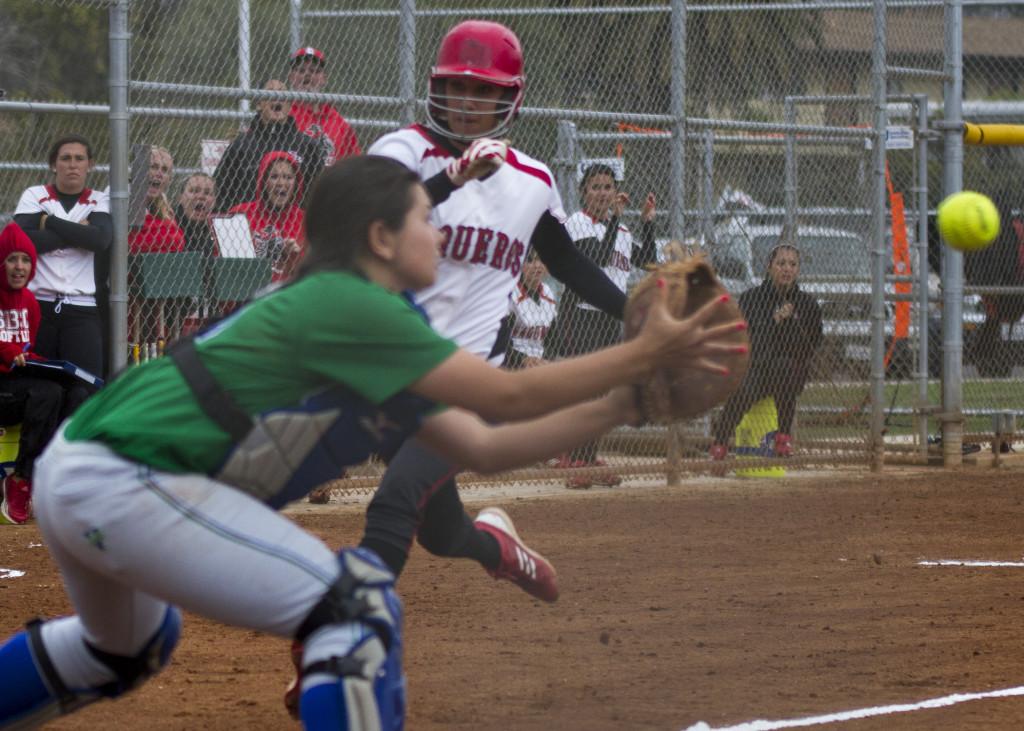 Dan Nelson, Sports Editor
April 8, 2012
Rain drizzled down on Pershing Park from start to finish of the Vaqueros softball game on Thursday.
City College defeated Oxnard 4-0, led by another dominant performance by pitcher Alyse Harris.
"I actually feel like I pitch better in the rain," Harris said. "It seems like every time it rains, I'm on."
Harris pitched her first shutout of the season. She gave up two hits over seven innings and struck out three batters. It was her 12th complete game this year.
"My curve was working pretty well and my [screwball] was working good," Harris said. "The other thing that was working well for me today was my [team's] offense and defense.
"I wasn't striking everybody out so I couldn't have done it without the team today."
The team was able to capitalize off the Condors' errors, scoring three unearned runs.
"As far as our offensive production, it wasn't great, but we took advantage of every little mishap that Oxnard had," said head coach Paula Congleton. "That was the difference in us scoring the four runs."
Catcher Lauren Larabell went 1-for-2 in the game with a walk and two runs. One run was on a sliding play into home plate in the third inning to push City College's lead to 4-0.
"I got a good read on the ball," Larabell said. "I looked up and I saw [coach Congleton] waving me in so I just went for it. I knew we needed as many runs as we could so I just went in hard to the plate."
Harris and the Vaqueros ran into trouble later in the fourth inning. Harris got the first batter out then gave up consecutive hits to put runners on second and third. She struck out the next batter and got the last out of the inning with an infield popup.
"That's just maturity on a part of the team," Harris said. "We didn't let ourselves get rattled there."
The wet conditions helped the Vaqueros more than it hurt.
"The conditions weren't great today, but [our players] played under the same conditions," Congleton said. "Unfortunately for Oxnard, they had a few throwing errors, and we definitely capitalized on that."
City College has played Oxnard four times this season, winning all but one. The Vaqueros have won seven of their last nine games.
The Vaqueros were only able to tally four hits in the game by Larabell, Bryn Thompson, Samantha Cabada, and Brianna Gill.
The squad has only four games remaining–a doubleheader against Moorpark and a doubleheader against L.A. Pierce.
The L.A. Pierce doubleheader will be at 1 p.m. and 3 p.m. on tuesday in Woodland Hills.