Freshman softball star ranks fourth in WSC for hits and RBI's
Freshman Vaquero Alyssa Richter is paving the way for the softball team as they get off to a great start to the season.
The Colorado native is already making a name for herself in the Western State Conference. She is quickly climbing her way up in state rankings by leading the way in many team stats.
"Ally is a special person that has definitely made a huge statement not only in our program but across the state in community college softball," head coach Paula Congleton said.
Most of the in-state Colorado schools she was considering didn't fulfill her softball needs.
"[City College] is a bigger school than a lot of the other ones. I was hopeful too that I could be seen by a D1," Richter said.
She found out about City College through her teammate Hope Ballard, a sophomore from Highlands Ranch, Colorado. The close friends played on the same team together in Colorado for two years before Ballard came to Santa Barbara.
"I was super excited Ally came here," said Ballard. "She is the kind of teammate you want to have on your team. She's as good a teammate as she is a player. I know she will always have my back."
A big difference that Richter has noticed so far in her college career is the recognition for her play on the field.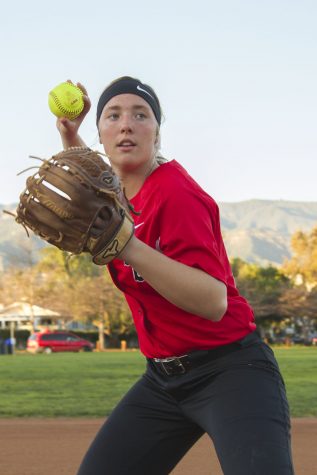 "In high school, I didn't really get recognition for my play. It is different now to have this sort of attention," she said.
Richter currently leads the Vaqueros in average hits and runs batted. She ranks fourth in the WSC for hits and RBIs. After an impressive debut where she hit a homerun, Richter chained together a six-game hit streak to start off her college softball career. She has recorded a hit in 10 of the 12 games this season, with eight of those games being multi-hit affairs.
"A former standout from Mountain Ridge High School and the Colorado Stars, Ally has continued her prowess and dominance as a Vaquero," Congleton said. "She has great presence on the field and is a student of the game which is what makes her a good player. The impact she is having so far this season has been outstanding."
Richter tries to keep her family informed as much as possible with her softball performance considering they can't physically be there for her entire California based season.
"I text my family after every game and tell them how I did. They try to come to some games and visit but it is really tough for them to make my games coming from so far away," she said.
Richter has impressed many so far and wants to continue to improve her game.
"From the time we started, Ally has done everything right," said teammate Madison McNamee.
"She has been timely all season long. She leads with her play on the field."
"After being around her for months now, I am seeing her personality and character flourish in this environment," Congleton said. "She is funny, popular and friendly. However, I also see a sensitive and trustworthy person who is striving to better herself on a daily basis."
The Vaqueros are 9-3 on the season while having played just three games at home. The team will play nine more road games before they play Santa Monica 2:30 p.m. at Pershing Park on Thursday, March 23.