Students gathered to oppose members of the anti-abortion organization Project Truth as they stood on the West Campus Lawn beneath banners displaying images of graphic, mutilated fetuses the organization claimed to be products of abortions on Wednesday, April 19. 
Gianna Cooper, a 20 year-old studio art major, told reporters that she walked past members of Project Truth as they attempted to hand her an anti-abortion pamphlet, called Cooper a "Nazi," and told her that "[she] needs Jesus."
Cooper recalled how she quickly ran to her classroom to collect materials for illustrating posters and influenced the inception of a protest comprised of City College students who stood with her in opposition. 
"To see all these men standing on the opposing side telling me what I can do with my body, it's kind of comical," Cooper said while holding up a sign that read "my body, my choice." 
Story continues below advertisement
Members of Project Truth set up just before 10 a.m. to oppose, according to one of the organizers of Project Truth who goes by the name William Wilberforce, the leftist "agenda" that college's attempt to push onto students by not informing them of the "reality of what abortion is." 
Wilberforce claimed this reality to be the fact that women are "kill[ing] their children" by obtaining abortions. 
"We're here to get into the echo chamber and offer another thinking process for the students," Wilberforce said as he explained that college's are government-funded institutions that he believes are heavily influenced by the political left.
Lily Karofsky, 20-year-old journalism major, held a sign that read "If I wanted the government in my uterus, I'd f— a senator," as she live streamed the protest on her instagram.  
"I also feel the fact that they are comparing abortions to the Holocaust, as a Jew, is very offensive," Karofsky said. "The Holocaust was an execution of 6 million Jews and to compare that to healthcare is so offensive because healthcare is a basic human right whereas the Jews were being persecuted solely for their religious beliefs. It's a completely different situation."
Though City College security surveilled the protesters, the anti-abortion organizers claimed to be gathered on campus to exercise their first amendment right. 
"I believe in free speech, but this isn't free speech," Karofsky said. "This is hate speech and it's ignorance and it's spreading misinformation."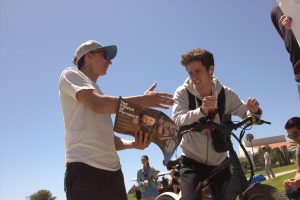 A member of Project Truth, Maison Deschamps, who also goes by "Pro-life Spiderman," explained that he doesn't want to control women's bodies, but protect the bodies of the babies and expressed that he welcomes conversations with people from the pro-choice side.
"I hope that if someone thinks that what we're doing is toxic or harmful, they will come talk to us," Deschamps said. "Because people think that what we're doing is harmful and toxic, that's a reason for us to be here and it just shows how much more we're needed on campuses like this." 
City College student Tate Posten, who stood on the pro-choice side of the protest, explained his belief that the men on the opposing side should not tell women what they should do with their bodies.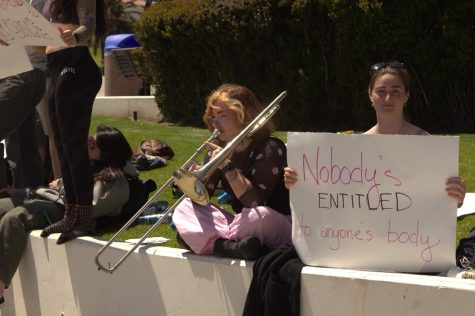 "It's sad that there are men out here trying to control what women can and can't do, personally I feel like that's up to the women," Posten said. "It's their body, their choice."
The pro-choice side grew larger as more students walked by and picked up their own signs to voice their opposition to the Project Truth display.
"I think they think that if they show us pictures of bloody, gory fetuses that it will somehow disgust us," Karofsky said."They're resorting to things like scare tactics, ignorance, and propaganda to try to convince us that they have anything important to say. I think that if you truly believe what you believe then it shouldn't matter what other people believe, so why are they trying to convince us that they're right?"