While most of City College's courses are online until Feb. 22, the Luria Library is currently offering a space for students to study in person.
Students are able to visit the library on Mondays and Thursdays from 9 a.m. to 4 p.m. 
Besides providing a focused atmosphere, students may also print materials, check out Chromebooks, and access the library's catalog. 
"A lot of students have been coming in to print for their classes," Librarian Sally Chuah said. "I wish there were more students here but I understand if they don't feel comfortable coming on campus."
Story continues below advertisement
To limit the spread of COVID-19 and the recent omicron variant, City College started its spring semester on Jan. 18 instead of Jan. 10. The majority of classes were moved online for the first five weeks along with new requirements for masking and testing. Despite the changes, the library continues to act as a dependable resource for students.
"The students do appreciate that we're open since we're the only building available on Mondays," Chuah said, referring to the Learning Resource Center — which is currently open Tuesdays through Thursdays from 9 a.m to 4 p.m.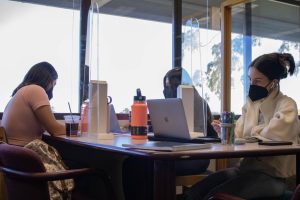 Students at the library expressed similar sentiments.
"I hate doing homework at home because it associates home with stress," student Sierra Steele said. "When I'm at home I get distracted versus being here where I can actually focus." 
Steele was studying with fellow students Paloma Torres and Erika Estrada, with clear plastic dividers separating opposite sides of the table they all were seated at as a safety precaution. 
"If we need anything there's a printer and resources," Estrada said. "I wish it was open more though."
After this Feb. 22, the library will be open on Mondays, Tuesdays and Thursdays from 9 a.m. to 4 p.m. and on Wednesdays from 10 a.m. to 6 p.m.
The library also offers virtual hours Mondays through Thursdays from 9 a.m. to 9 p.m., Fridays from 9 a.m. to 4 p.m. and Sundays from 1 p.m. to 4 p.m.