Departments complete pitching faculty proposals to the Senate
The Academic Senate, which usually only meets every two weeks, met for the second time this month to hear the latter half of staff proposals for new tenured positions.
Interim Executive Vice President of Educational Programs Kathy Scott also cautioned faculty about enrollment drops and emphasized efforts to keep as many students in classes as possible. 
"Just like last week when we heard faculty presentations… this week we focus on committing to working with an equity mindset and upholding the mission of the college to foster an inclusive, participatory community," Senate President Raeanne Napoleon said. 
The number of new positions to be hired has not yet been released by the administration. The senate, which works as a consultative body representing the school's faculty in administrative matters, decides which departments are granted new positions. This was the second of two weeks the senate heard these proposals.
These are the departments and number of positions each is vying for: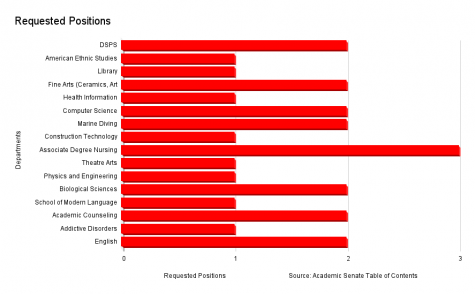 This week, the senate heard from the remaining nine departments requesting positions. 
Patrick Foster, former chair of Construction Technologies, asked for a replacement for his previous role. Foster retired three years ago but remained as an adjunct professor, he said, because the department couldn't run properly from a shortage of personnel.
 "A lack of a chair leaves the students hanging and lost," he said. "I'm retiring completely this summer… I doubt the future of the program without a full time instructor."
English Department Chair Melissa Menendez asked for two positions — one replacement and one new.
In fall 2019, the department was awarded one new position, but the post fell through due to budget cuts.
"While much of the campus has decreased, English has actually experienced an increase in classes offered… but we could not meet student demand," Menendez said. "The need is not for us professionally, the need is for our students."
During her report, Scott presented the results of a recent survey the college sent out to students asking whether they prefer online or in-person classes, with 1,523 responses so far. 
589 students or 39% preferred some online and some in-person classes

445 students or 29% preferred all in-person classes

434 students or 28% preferred all online classes

55 students or 4% had no preference
"It is important we schedule for the needs of our students," she said. "The survey is still open… We appreciate the input, it's very helpful to us."
Scott also said Healthy Roster, the current daily survey required for entering buildings on campus, will soon be replaced by the new CLEARED4Class application.
This new program allows individuals to upload their immunization card and check in without showing both ID and proof of vaccination. It also tracks approved exemptions and makes scheduling on-site COVID-19 tests more accessible, Scott said.
"CLEARED4 does a lot that Healthy Roster is not doing," she said. "It should make things easier for everyone."
The Academic Senate will reconvene next Wednesday, Oct. 20.