Academic Senate begins faculty proposals, discusses enrollment
City College's Academic Senate, a consultative body representing the school's faculty, spent the bulk of this week's meeting hearing proposals from departments across the campus asking for new tenured positions. The number of available positions is not known as of yet.
This was the first of two weeks that the senate would hear these proposals. 
"We're going to hear lots of presentations from our colleagues," said senate President Raeanne Napoleon. "[We need to] commit to working with an equity mindset."
These are the departments and number of positions that each is vying for: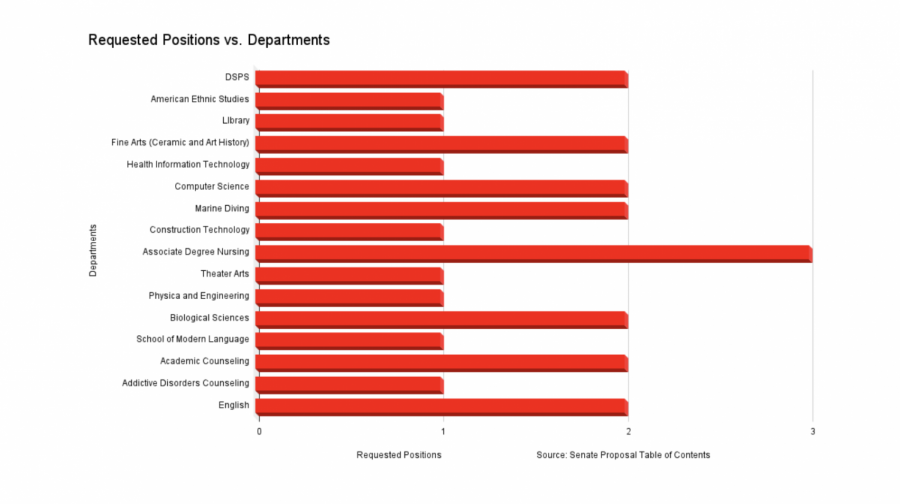 The senate heard presentations from DSPS through Marine Diving Technologies this week.
The remaining departments will get a chance to pitch to the senate next week.  
"If these two positions are not approved, SBCC won't be able to maintain the same level of support and services due to an overburdened faculty," said DSPS presenter and Learning Disability Specialist Linda Beers. "The college needs these positions filled to remain concurrent and federally compliant."
The senate also heard concerns about enrollment decline and the possible effects that loss of students could bring.
"Right now I don't believe we're doing our best for the students," said Interim Executive Vice President of Educational Programs Kathy Scott. "We are in danger of losing our middle college status."
The COVID-19 isolation mandates and subsequent remote learning made the educational experience challenging for most students. The difficulties students faced while dealing with online enrollment, attending classes over Zoom and the lack of in-person interaction with teachers and student services caused drops in enrollment.
Enrollment decreases could affect City College's accreditation standards, approval for the college which, among others, affects the ability for students to receive federal financial aid and the transferability of credits taken at City College. The school's middle college program, where high school students earn college credit while completing their diploma, also has the potential to be at risk.
"In addition to a significant loss of income for the college, there are probably students out there we're not serving," Scott said. "We're down about 5% [from 2020] so far."
She said thanks to a survey done last September, the college knows students are more likely to return if in-person classes are offered.
"The vast majority of [students] are saying they had trouble in class because they struggle online," Scott said.
Since Scott came in and presented during public comment and this topic wasn't on the agenda, there was nothing the senate could do to act upon it at this meeting. 
The Academic Senate will reconvene next Wednesday, Oct. 13.