Virtual Club Day in jeopardy over lack of funding and engagement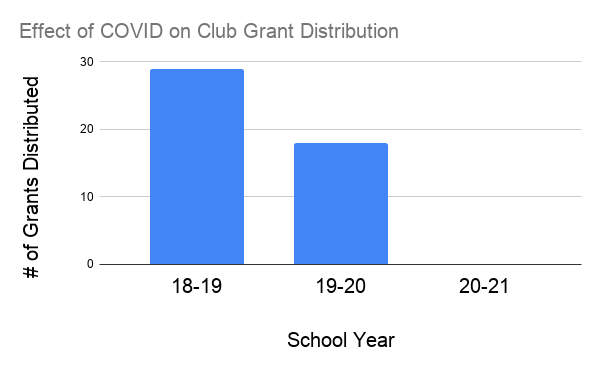 The Associated Student Government's plans for a virtual club day are still up in the air and engaging student clubs continues to be a challenge because of the closed campus.
"When we were in person, each year we would host this amazing club day," ASG President Carson Mitchell said. "It was typically one of the main sources of engagement with our clubs."  
Virtual limitations have restricted the student senate from operating club affairs as they would in person. Without students on campus, the ASG has no means to give out any club grants. 
Only a single club has been chartered this semester.
Concrete plans have yet to materialize for virtual club day. In an interview with The Channels, Vice President of Operations and Finance Maggie Tang said the senate is looking to host it the week students return from spring break. 
She said the current plan is for the senate to send a Google Form to all club leaders to gauge interest in the event. 
"With the changes from COVID, people graduating last year and lessening of club activity due to COVID, we don't know how many club leaders are active right now," she said. "So we are just going to reach out to everybody we have on file." 
The student government is accustomed to hosting events and providing support for the student body on campus and senate members are struggling to recreate that in a virtual setting.
"I think it makes a big difference being able to meet with someone or show support face to face," ASG Student Program Advisor Amy Collins said.
A lot of opportunities that were once open to clubs now go unused.
When on campus, students pay an activity fee of $8, which the ASG gets a portion of. The student government uses this money to fund club grants, among other things. But with school largely online, no one has paid the student activity fee and no clubs have requested any money this academic year. 
"Due to COVID, we haven't budgeted out too much money to give to clubs because most of them are operated remotely, and don't necessarily need the money for funding," Tang said. 
Mitchell said that typically the ASG facilitated the Inter-Club Council (ICC). The ICC is a committee of club representatives that used to meet to bring their issues to the ASG and plan events. Because of COVID-19, the ASG has not held any ICC meetings. 
"We just, unfortunately, haven't been able to facilitate that," Mitchell said. 
As the details of virtual club day get straightened out, Mitchell said their goal is to mimic the real club experience as closely as they can.