Board of Trustees denies Gallardo's nomination for state-level position
In a contentious, last-minute special board meeting, the City College Board of Trustees denied a nomination for Trustee Veronica Gallardo to run for a seat on the California Community College Trustees Board.
The trustees called for the meeting last Thursday, and met on President's Day to decide whether to nominate Gallardo to represent City College in the state community college trustee board.
City College does not currently have a representative at the state-level. Trustee Gallardo put herself up for consideration for the position shortly before the state board's Feb. 15 deadline, which led to the impromptu nature of the meeting.
Though it was a holiday, many staff, faculty and community members showed up to criticize the motion during public comment, saying Gallardo's history of voting against anti-racist measures makes her unfit to represent the college on the state level.
"The last-minute nature of this special board meeting, for which there was little notice, and which requires multiple SBCC employees to work on a holiday is problematic in itself," said Ellen Carey, librarian and member of the Academic Senate.
Carey said Gallardo "repeatedly voted against the board's anti-racism resolutions" and challenged voluntary anti-racism training for faculty staff, "arguing that it would somehow be harmful to students."
Other faculty members argued that Gallardo's history of voting against anti-racist incentives does not align with the state board or City College values, and nominating her would not be an accurate representation of the college to the state level.
"Her 'no' vote means to produce and maintain racial inequity between racial groups," said Melissa Menendez, English professor and advisor to the Associated Student Government. "That decision is in direct opposition to ethical leadership and being inclusive."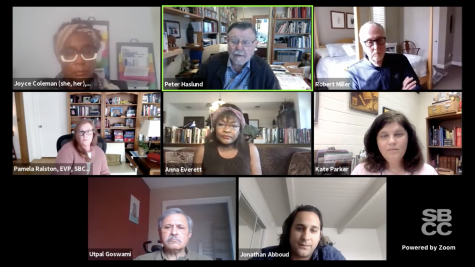 "It makes no sense to elevate her to a state-level office when she does not represent what we stand for," said Robin Goodnough, an ESL professor who also serves in the Academic Senate.
Other college staff who spoke during public comment referenced Gallardo opposing gender-neutral bathrooms, and voting against ethnic studies as a requirement for K-12 schools.
When Gallardo was given the opportunity to respond, she said she was focused on "expanding childcare availability" and promoting "healthy child development and future school success."
She cited her experience in elementary and K-12 education, as well as her training in budgeting college finances, but did not reference her voting history or the criticisms made during public comment.
Trustee Kate Parker spoke in support of the nomination, saying that although she's often on the opposing side of Gallardo's votes, she appreciates the "diversity of viewpoints" Gallardo brings to the board, and that the state board should also have representatives with differing opinions.
"I believe we're stronger when we have people that we argue against, that bring a different perspective," Parker said.
Trustee Jonathan Abboud was among the most vocal in opposition to the nomination, saying Gallardo has been "an actively destructive voice" on the board.
"This goes beyond diversity of viewpoint," he said. "And goes into, is someone a good representative of Santa Barbara City College?"
The motion was ultimately denied in a 2-3 vote, with Trustees Gallardo and Parker in favor and Trustees Abboud, Anna Everett and Robert Miller voting against the nomination.
The board will reconvene for its next meeting on Thursday, Feb. 25.