ESP brings success and recognition to SBCC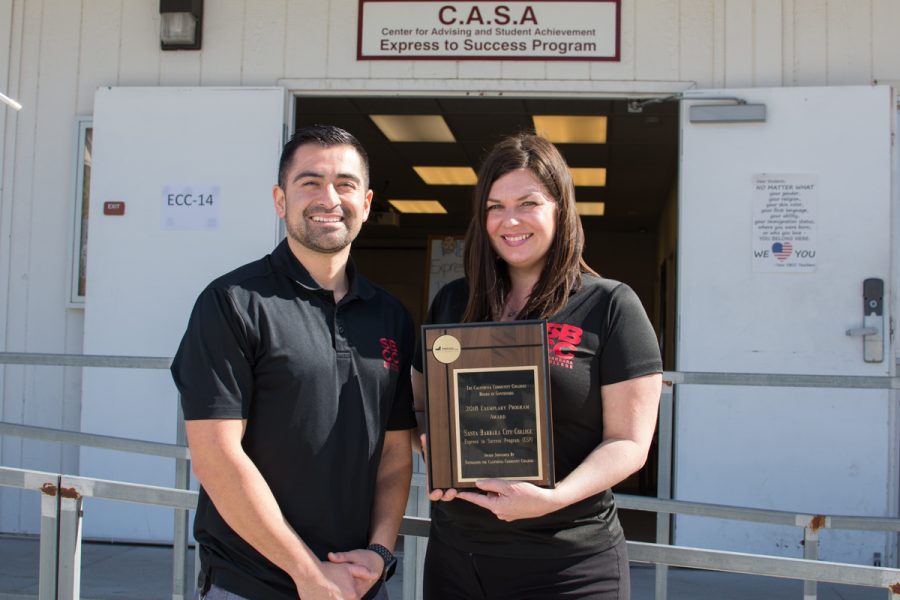 City College's Express to Success Program (ESP) leader Kathy Molloy has recently been awarded the California Community Colleges Board of Governors Exemplary Program Award.
The board, based in Sacramento, recognizes two colleges every year that develop programs which help provide guided exploration for undecided students. This year, they recognized City College for its Express to Success Program, which offers accelerated developmental math and English courses to students who asses at one or two levels below college level.
Molloy, head of the ESP, received the award on behalf of the program on January 16th in Sacramento.
"It's hard to pinpoint the most significant factor in the program's success," Molloy said. "Our students tell us it's the combination of several factors that contribute to their own success. ESP has instructors, counselors, tutors and peers in the classroom who are all working together to support their learning."
Since its start in the Fall of 2010, students who take part in the program have been more successful in college courses. ESP students are completing math and English courses at a 40 to 50 percent higher rate than those who are taking the courses at normal pace over a two semester period.
Molloy said that the ESP's main goal now is to continue to expand the program to more students.
"We really believe that students are capable of being successful in these accelerated learning communities if they are committed to their success and believe that they can meet high expectations. National, state and City College's own research show that this is true."
Although the workload in these accelerated classes is heavier than that of more conventional courses, the expectation is that students who spend less time taking developmental classes at the community college level will have a much higher success rate later on.
The students participating in ESP seem to thrive off of its unconventional methods, at least according to Domenic Cosio, a second year student currently taking ten units of math courses in the program. "There are so many things about it that push me to do well," says Cosio. "Aside from all of the practice I get in class, I have tutors, a study room in the ESP office, and a lot of classmates to rely on."
Cosio also admits that his main incentive to succeed in the class comes from the fear of wasting all ten of the class units. He says, "If I fail ten units, I'm going to have to technically retake two classes."
Cosio, along with the rest of the students in the program's twenty-three learning communities, strives to get ahead now in order to be fully prepared for the future of his education.
Molloy says that as for the future of the program, she can only see it continuing to assist more students, like Cosio, in their attempts to achieve their goals.
Instructions on how to sign up for the program can be found here.