Board Policy 3150 passed despite emotional faculty opposition
Board Policy 3150 was approved by the Board of Trustees 6-1 Thursday, with Trustee Marty Blum dissenting, despite opposition by five prominent City College faculty members.
BP 3150 proposed a "stable, continuing optimal size" for the College of around 15,000 full time equivalent students, which are referenced to as the abbreviation FTES. A single FTES is the equivalent of one student enrolled 15 units. However, multiple students can represent a single FTES. For instance, if there are two students and one is enrolled in eight units and the other in seven units, both of them together represent one FTES.
The current Academic Senate president, vice president, president-elect, former president, and the Faculty Association President spoke out at the board meeting to delay its consideration of BP 3150 and BP 1300. Their concerns included the process by which BP 3150 and BP 1300 were being considered, and the language of BP 3150.
Academic Senate President Priscilla Butler said that based on her understanding of the process of consideration of board policy proposals given in BP 2410—which the board approved just before her comments— Trustees were not following the process correctly. According to Butler, the policies in their current versions should be considered as a first reading for discussion only at the Thursday meeting, not possible approval, with consideration for approval at a future meeting.
Kim Monda, former Academic Senate president, was emotionally choked up as she raised her voice against the policies.
"I love this college. We make these sacrifices for the place that we love, and what is happening is that we are dealing with participatory governance," she said. "Right now these policies contain things that I see as violations of a lot of our principles, our mission, and our vision."
California annually allocates money to community colleges based on a given college's total FTES value. Funds from the state are typically one of the largest sources of revenue for City College.
Butler said that the language of BP 3150 is inappropriate for a Board policy, referencing chapter 17 of the Trustee Handbook under "Board Responsibilities," which states that "policy should clearly state the intent and direction of the Board, but not be overly prescriptive or detailed."
"The Board provides overall goals but does not define how to achieve those goals," said Butler. "BP 3150 contains very prescriptive language including a precise designation of size, and a particular FTES target."
Lastly, she said that since the faculty perceives many of the elements of BP 3150 to be some ways to solve issues with the college's budget, those elements should instead be incorporated within the college's Educational Master Plan. Her point was that both BP 3150 and BP 1300 should be discussed, but not voted on, at the meeting, and BP 3150 should be permanently removed from board consideration.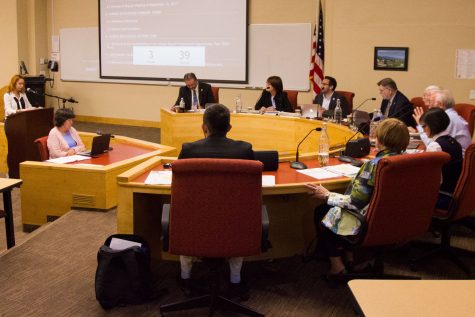 Kivilcim Doganyigit, an international student at the college, spoke on behalf of international students to express her concerns about BP 3150, asking the board whether the policy would lead to an enrollment cap, and if so, what that number would be.
"When we left our homes and moved to SBCC, we adopted this place as our home and community, and nothing would hurt us more than SBCC treating us like outsiders," she said.
The policy does not state how its FTES number would be maintained, nor how its upper limits would be enforced.
The board had the position that the elements of BP 3150 gave the college much freedom to deliberate about how the 15,000 FTES number would be maintained. Moreover, Paul Jarrell, Executive Vice President of Educational Services, said that he had been presenting the nine-year trend in data behind the number to numerous groups, and there was a general consensus that it was a sound number.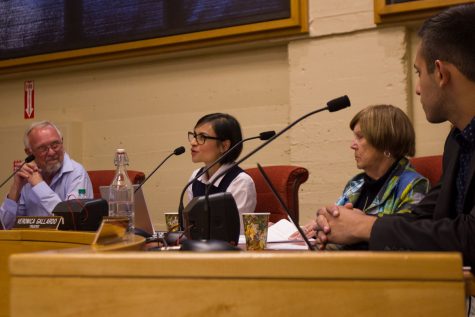 Trustee Victoria Gallardo voiced that the Board needed to act now to address the financial crisis, and that not acting on the policies was not an option. She noted also that the part of the policy regarding enrollment efficiency that concerned the faculty need only be achieved by 2020, and so that element of the policy would not immediately go into effect.  
The current FTES number is below 15,000 and is expected to decrease next year.
Trustee Marsha Croninger said that the Fiscal Crisis and Management Assistance Team report that BP 3150 references explicitly states that a board policy, not a policy within the Educational Master Plan, needed to be approved containing the elements within BP 3150. Furthermore, when she referred to the minutes of the Academic Senate's last meeting, she implied that the senate had adequate time to discuss BP 3150 in particular, and that due process had been followed with the policies.
The Board emphasized that they were very open to reconsidering the policy at a later date in response to feedback, which they have done before with other policies.