Former SBCC superintendent-president passes away
Lorenzo Dall'Armi, former Superintendent-President from 1968-69, passed away on March 8, from an unspecified illness. He was 91.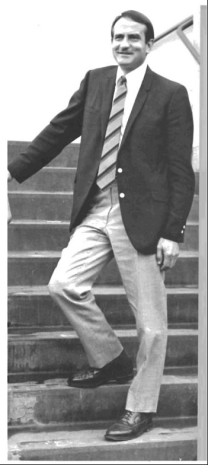 Dall'Armi was a Santa Barbara local. He graduated from Santa Barbara High School in 1940, earning his bachelor's degree from UCSB in 1946 and his master's degree from USC in 1948.
He won the Distinguished Alumni Award at UCSB in 1982 for his work in Education.
For five years he taught at Santa Barbara's Washington School and was named principal there for 12 years.
He took a position at City College as the Administrative Dean of Business Services in 1965. In 1968, he was promoted to superintendent-president, following Dr. Robert C. Rockwell, who left to take another position.
"I think that rather than looking on the situation as one of keeping the ship afloat, there is coming a year of progress and moving forward," Dall'Armi said in an interview with The Channels in 1968.
His wife Patti, daughter Danielle Hahn as well as her husband and sons Will and Jeffrey survive Dall'Armi. His other daughter Nina Dall'Armi and her daughter Miri Sunkel also survive him.
His family established a memorial with The Scholarship Foundation of Santa Barbara. Contributions can be made to the Lorenzo Dall'Armi Culinary Scholarship Fund.
There will be a memorial service at 1 p.m. Sunday, March 16 at Rose Story Farm in Carpinteria, Calif.