Sylvia Acevedo speaks for third annual marketing SHPE event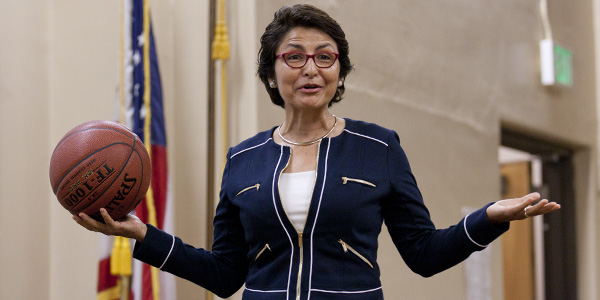 One of the first Latinas to earn a graduate degree from Stanford University was the keynote speaker for a professional networking event hosted by the Society for Professional Hispanic Engineers.
"That's pretty amazing to me because when you live your life, you don't think there's anything special about [it]," said Sylvia Acevedo, the keynote speaker for the society's third annual professional networking event. "For me, that was a big wake-up call because I hadn't realized that I was really one of the first."
Acevedo, dressed in red glasses and a gold-trimmed blazer, spoke during "Inspiring the Great Minds of Tomorrow," at 4:30 p.m. on Friday, April 26, in Administration Building Room 211.
She served as a commissioner on President Obama's Advisory Commission on Educational Excellence for Hispanics.
Acevedo spoke about how her childhood hobby basketball, taught her discipline and determination in her childhood.
"On Sunday nights, I would tell myself I cannot go in until I've done 100 lay-ups," she said. "I did something that I really loved and I made myself a goal in the challenge. I stayed out there until I did 100 lay-ups in a row."
Acevedo earned a bachelor's degree in engineering from New Mexico State University. She attended Stanford University for graduate school and graduated with a master's degree in industrial engineering in 1983.
The auditorium, full of attentive students, listened intently to Acevedo's speech.
"How many of you are the first of your family to go to college?" she asked.
Most, if not all, of the students rose their hands.
Acevedo's family hails from Mexico, and she explained how she grew up under dire economic conditions. Growing up, she made homemade rockets with her brother. She became enthralled with rocket science and learned what it took "to break gravity's grip."
"Family life was more about surviving, not thriving," she said. "But one of the reasons I fell in love with engineering is that … [it] is a lot about problem solving. There's a methodology that you can approach things in life to make a lot of sense out of them."
Acevedo has worked as an executive for several Fortune 100 companies, including Apple, DELL and IBM. She is the co-founder and Chief Executive Officer of CommuniCard LLC, a company that reaches out to communities with rapidly changing populations to help develop solutions for education and healthcare.
A panel discussion about the rigorous labor of engineering hosted by six of the society members preceded Acevedo's speech.
One panel member studied stem cell research at Brown University and learned about tissue, muscle, cartilage and bone regeneration. City College student Robert Gutierrez discussed overcoming self-doubt in a compacted and highly stressful major.
"Engineering is not easy," he said, "but it's not just about engineering. It's about pursuing higher education. You guys can become biologists. You guys can become doctors. Anything, you know? It's just not about engineering. It's about striving for better."
An interactive workshop was another activity included in the event.
Teamed with professionals and students from Dos Pueblos, Santa Ynez and Carpinteria high schools, society members competed to build the highest and sturdiest tower possible in twenty minutes.
"I hope they learned a lot from communicating with each other," said Eric Chavez, a mechanical engineering major and co-president of the society. "They came up with a lot of ideas. There were a couple high towers, but the small challenge was there's a bounce test. I'd drop it from a certain height and see if it's still stable."
Other activities included Dr. Mike Young's physics lecture, "Molecular Mania."
"From the molecules and things and how they interact with the environment," said Chavez, 20. "They learned a lot today."