A 60-year-old seafoam-green typewriter exists as Andruw Martinez's most valued possession–it's a token of his passion for writing, and a symbol of his past lover. 
All of his life he lacked stability, but finally a promising future was in sight after meeting the love of his life. 
They shared a passion for learning, adventure, English and writing, and he shared his love of motorcycles with her through teaching her to ride. 
Within the first year of his girlfriend learning how to ride a motorcycle, she was tragically killed in a crash between another vehicle and herself. 
Story continues below advertisement
The couple's shared vision of the future was shattered, and Martinez was left to spiral into the dark void of her absence, stumbling through an unfamiliar feeling of loving someone who is no longer in existence.
As an homage to her life, he embarked on a solo adventure into the unknown. He built out a van and packed up his few belongings. Among those belongings sat the one possession he managed to keep from his girlfriend's family: her old typewriter.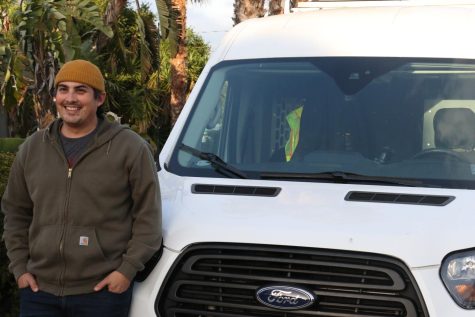 Martinez was born in California, and grew up mostly in areas surrounding the outer East Bay Area, moving from one small suburb to the next. 
"From that moving-around experience, I've really valued being alone a lot," Martinez said. "I've always been told that I'm really good at entertaining myself, so I think that's just active imagination."
He attended three different elementary schools, and three different high schools before attending a local junior college and then transferring to San Francisco State University with a psychology major. As a sophomore in 2006, Martinez decided to drop out of school and began to build a different life-path for himself, one that would eventually lead to his love for poetry and a new professional pursuit. 
Always hungry for an enthralling adventure, and with a desire to experience the world in unfamiliar ways, a spontaneous calling to move across the country enticed him. 
"I've always been hungry for different perspectives because I feel like it gets me out of my own comfort zones," Martinez said. 
One of his relationships began after he fell in love with a ballerina, got married to her within six months of being together, and moved to New York. 
His love for art in all of its forms, was reinforced through their connection, as he watched her, unfamiliar with dance himself, communicate her experiences through her body's movements. In her mind, her body was a blank canvas, open to her choreographer's artistic interpretations who could paint a vision through the movements he instructed her to perform, as Martinez described. 
"That overall arching theme of artistic, creative endeavors and how so many different mediums can translate, it's like a language," he said as he described the draw he had to his then-wife's artistic expressions. 
The concept of being a vessel for communicating art, of being left open for audiences to interpret, stuck with him. Eventually, it took shape as inspiration for his writing, even after their two year love story came to an end. 
After their divorce, Martinez was alone again, but this familiar state of being didn't scare him. Instead, he found complete freedom, freedom to do whatever he wanted, in solitude. 
"[One] of my favorite things is getting lost," Martinez said.
His interest in motorcycles was a major contributor to exploring the environment around him. While living in Berkeley, he would hop onto his motorcycle, pick a direction and just drive into the hills, never having a fear of getting lost and always hungry for the next adventure. 
After the death of his girlfriend, in a state of devastation, Martinez broke their lease and started couchsurfing in the homes of his friends. After a period of stagnation, he decided to live out their once-shared vision of intertwining their lives through "van-life"  where they would leave behind their worries, move into a van, and begin their life anew. 
Now at 40-years-old, after living in a van for three and a half years, his love for the ocean inspired him to move to Santa Barbara. 
"I love sitting out where you can just see…nothing but ocean," Martinez said. "For me it's one of the ways I keep my humility in check. You're just this tiny little thing and you could fall in there and get swooped up and that's it, you're done. I just like being reminded that I'm not the only one, there's other people out there trying to make their way." 
He has chosen to study administrative justice at City College with the goal of eventually becoming a patrol officer, while focusing on his passion for writing poetry.
Through poetry and writing, Martinez has found a way to centralize the pain, love, heartbreak, and death that he has endured to create art out of his life experiences. 
His typewriter, which once was used as a means of passing notes between himself and his late girlfriend, now exists as a tool to create poems and share them with those in his reach.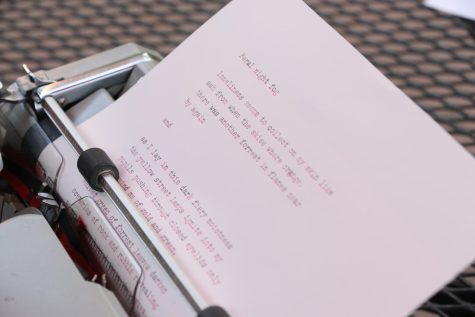 With every click of the typewriter, Martinez crafts the lines of his poetry, careful to not make a spelling error, and intentional with the movement of his fingers. He creates poetry that remains untitled but is filled with puns, words with double meanings, and oxymorons, all with the purpose of leaving his work as open and available to interpretation to readers as possible. 
He hopes to one day publish his collection of poems written on that seafoam typewriter. 
Martinez's experience living in a van has brought focus to the aspects of life that truly matter to him. 
In shedding the weight of most of his material possessions, even photographs, he grounded himself in the significance of memory and found peace in adopting a minimalist lifestyle. 
"It's a mix between life happening and choosing to accept that that life happened," he said as he explained the many items that he has lost and the items that he has chosen to rid himself of. 
Creating a divide between himself and his physical possessions has allowed for an internal, intangible embodiment of what the physical materials represent and has given him a greater appreciation for the world around him. 
"It's been incredible to, even though I've had these tragic things happen, to see them encourage other people," Martinez said. "All I want to do is just reach out and [say], 'There is another side to it where you can find gratitude in the suffering.'"