Día de los Muertos or Day of the Dead is a Mexican holiday that is traditionally held from Nov. 1-2. 
During the holiday, family and friends come together to celebrate the lives of their loved ones who have passed away. 
In doing so, they set up ofrendas allowing for their beloved spirits to be guided back to the land of the living on the 'Noche de Muertos' which is held on the night of Nov. 2.
Pan de Muertos, fruits, grains, beverages, marigold flowers, skeleton and skull decorations, candles and whatever resonates with the deceased people are displayed throughout the altars.   
Story continues below advertisement
This year, several departments at City College have set up these altars to celebrate and honor the community's lost loved ones. 
The Center for Equity and Social Justice, located in CC-228, has a bright-colored altar set up next to the newly opened Dream Center. 
Papel picado, which is tissue paper with designs that are cut into them, is set up against the wall along with many colorful tissue paper flowers. Students at the center worked together to create the multi-layered decorations.
Next to these flowers are many calaveras, which are the most common floral during this holiday. 
Below these are three tiers and a donkey piñata next to the altar. Throughout the tiers, there are skulls and skeleton figures with bright colored designs, candles, yellow and orange marigolds and a horizontal sign displaying 'Día de los Muertos.' On the top tier, the items are placed on top of a multicolored zarape and on the bottom tier they're placed over a tablecloth filled with varicolored skulls. 
On one specific candle there's the Virgin Mary on it which is lit for prayer intentions.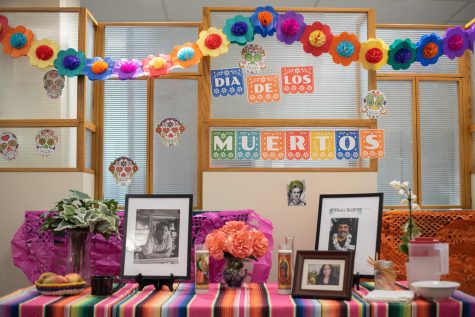 The Student Services building also set up an altar on the first floor.
Their altar has flowers both real and fake, prayer candles, an apple and two mangos, a bar of soap, a pitcher of water, a mug, a mason jar and a framed picture of Frida Kahlo over a zarape. 
Behind this are skull decorations, a 'Día de Los Muertos' sign, papel picado, another picture of Frida Kahlo, and multicolor tissue paper flowers strung together over the altar.
Other locations that will have an altar set up by Monday, Oct. 31 include the Luria Library, Campus Bookstore, ESL Center, and the Basic Needs Center. 
At 12 p.m. on Tues, Nov. 1 there will be a 'Appreciation, not appropriation: The sacredness of Día de Muertos' workshop in the CESJ room where pan de Muertos and beverages will be served.