Communication department announces 'Stand Out Student'
From a snow covered alpine ski resort village in Sweden, to a sandy beach town in California, International Student Laila Islamovic packed her snow gear in hopes to make Santa Barbara her new home.
Islamovic left her mark on City College throughout the two years she spent here, and was recently recognized by the Communication Department as their "Stand Out Student" of the year.
"I started crying when Professor Hock told me I won the award. I asked her if it was a prank," she said. "But after that phone call, I started contemplating everything I've actually done here."
She is vice president of Sigma Chi Eta, the communications honor society, works on the communications department website and is a staff member of the Santa Barbara Ski and Snowboard Club, comprised of UCSB and City College Students.
Whether coordinating events in the communication lab, such as "Let's Talk: A Conversation About Race," or trips to Mammoth and Lake Tahoe for the 400-member ski club, Islamovic has taken skills from her communication courses and applied them outside the classroom.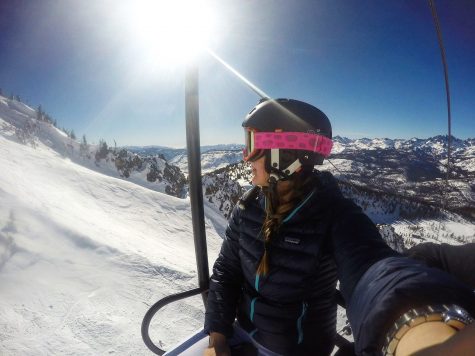 "It's weird actually using what you learn in class for the real world, even small things like emailing organizations and how to act properly with professionals, " she said. "I feel so grownup."
Although she says, "Sweden and California are two different plants," she has made it feel like home by trading the Santa Barbara beaches for some ski slopes from time to time by organizing trips with the club.
Islamovic grew up in Åre, a leading Scandinavian ski resort village, where she started skiing at age 4.
"I was bummed I wouldn't get that when I moved to the U.S. and then a friend invited me to her cabin and told me about the ski club," she said. "I signed up for a membership immediately."
Her hometown was centered around the sport, even implementing it into high school physical education courses. Islamovic said she would ski everyday during the snow season from October to April.
Although the ski club is a huge part of her social life, she puts forth extensive effort toward the communication department and Sigma Chi Eta.
"Sigma Chi Eta became such a big part of my life and I didn't want to join anything else," she said. "I wanted to commit to it a 100 percent wholeheartedly."
Her plan was to be here for a year and try out business, but after taking Communication 171, "Mass Media and Society," she changed her major and decided to stay and finish school in the United States.
"The first two months I was here, I had to think and translate everything I was going to say in my head and then after two months, I started dreaming in English," Islamovic said.
Since she was staying, Professor Sarah Hock encouraged her to join Sigma Chi Eta, where she started as the publicist and is now the Vice President of the society.
"Laila has been a stellar student in her academic performance, and an outstanding leader in the communications department," Hock said.
About 40 students from various academic departments, and people who are of service to the college, including the student senate, international students, Phi Theta Kappa and an influential club are recognized with a "outstanding student" certificate, Amy Collins, student program advisor said.
The awards reception for the honorees will be at 5:30 p.m. Friday, May 6, in the Campus Center.