SBCC hires a second full-time sociology professor
An eight-year search for a second full-time sociology professor has come to an end with the hiring of Dr. Patrick O'Brien last fall.
City College's sociology department had 232 students in the fall of 2014, and the only full-time sociology professor, Department Chair Jill Stein. She has worked at the college for the past 13 years.
"I'm thrilled to have Dr. O'Brien in our department," Stein said. "We have synergy that is greater than the sum of our parts. He hit all the marks as to what the college wanted. He is a great fit, has all the right skills, and is committed for the long term."
O'Brien spent the past 10 years bouncing back and forth across the country. He earned his bachelor's degree in sociology and psychology from Ohio University, and went on to earn a master's degree and doctorate in sociology from the University of Colorado in Boulder.
He later was an instructor at the University of Wisconsin, however, Santa Barbara won his heart and he plans to make City College a permanent home.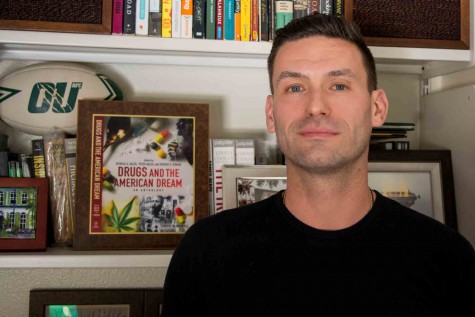 "I have the desire to be here and to stay here," O'Brien said.
O'Brien is teaching Sociology 101, "Introduction to Sociology" and Sociology 109, "Social Problems." He intends to later introduce a class he created called "Sociology of Drugs," a course that focuses on drugs and their societal effects.
O'Brien's introductory class is at its maximum capacity with 130 students, but he still manages to connect on a personal level with each of his students.
"His class is very informative and his teaching style is very personable," said Student Walter Leyva. "It is almost like having a one-on-one conversation with him."
Students can expect engaging lectures incorporating humor, relatable pop culture references, and various video clips throughout the classes.
O'Brien's teaching style is a combination of interactive lectures and straightforward  powerpoints. He can bring otherwise "dry" material to life by keeping everyone entertained and creating a comfortable environment for students to discuss controversial topics.
"Students will be getting the same material I taught at four-year universities," O'Brien said. "And even if CC isn't a four-year, the best advice I can give is to just show up."
O'Brien's passion for sociology was inspired by his social science professors he had while he was in college.
What propelled him to turn it into a career was working in the field of ethnographic studies. He was particularly fascinated by sociological problems such as criminology, delinquency and social control.
"Teaching is the most important thing and he excels at it. He has very high standards for himself and it reflects in his work," Stein said. "He is giving the students something of value, especially by being able to relate to them."
O'Brien vacationed in Santa Barbara with his family throughout the years and when a job opportunity arose he thought it would be the perfect place to call his new home. When he is not busy educating students about social issues, he is out trying new restaurants, riding around on his motorcycle and being active.
With the addition of O'Brien's full time commitment to the college, the sociology program's desire to continue growing and evolving is finally becoming reality.