City College alumna Dallas Fowlie spends most of her time these days underwater in the Gulf of Mexico in her first job as a commercial diver.
"I've been told multiple times that girls would never make it out here," Fowlie said. "And that is what drives me."
The 19 year old works as a diver tender, supporting the commercial divers in the ocean by sending tools and making sure the divers are completely safe. She shares this journey with over 100 men on an oil field off the Gulf of Mexico.
"They push me to my breaking limit sometimes, what I thought used to be my breaking limit," Fowlie said. "But every day you get stronger and things just get a little bit easier."
Story continues below advertisement
Her dream is to become a saturation diver, working in an underwater ship called a chamber for 30 days straight.
Last May, Fowlie moved to New Orleans to start her career in diving. However, the tract of land where oil gets extracted out in the ocean, also known as an oil field, more closely resembles her permanent resident since she works 12 hours shifts and barely gets days off.
"We rarely get any vacation because we're on a 24/7 call out," Fowlie said.
Fowlie's passion for diving started when she was a child in Apple Valley, California. As the only child in her family, Fowlie's father encouraged her to learn about machines.
"I'm not manly," Fowlie said. "I'm still a girl.  I wear dresses when I'm home."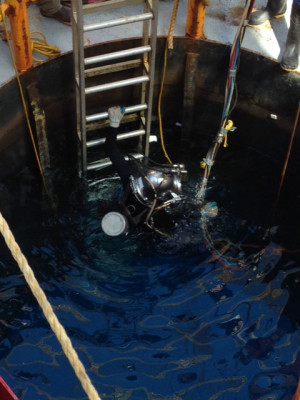 Fowlie credited the Marine diving technology department at City College with preparing her to enter the field. She learned things such as scuba diving and working underwater as a commercial diver. Thanks to the professors with a background as divers and oil field workers, she could picture how it would be to work in the oil and gas industry.
"They gave me a baseline knowledge," she said. "They gave me the mindset that it's going to be difficult."
Professor Geoff Thielst said Fowlie continues to impress him.
"She's really a smart and just a good person," Thielst said. "And women don't normally get into commercial diving."
In the beginning of Fowlie's career, one of the biggest challenges was the male-dominated environment. However, today she sees her co-workers as her new big family.
"I've really learned that guys will except you out here, but you have to show them you want it," she said. "If a guy can't do it, they're just going to give them the excuse that they're not strong enough yet. If you can't do it, you're just a girl in a male-dominated industry."
Fowlie expects the stereotype of the industry to disappears and that more females will enroll.
"I'm most proud of following what I want to do despite what other people have said," she said.