Former rock n' roller brings tenacious attitude to SBCC staff
If there's one way to describe Dan Yanez, it's the slogan on the mug sitting on his desk, "Don't give me your attitude, I have one already."
May 4 is the first day of his eleventh year as a duplications technician at City College. Yanez recently won honorable mention as Classified Employee of the Year, a title he has been nominated for three times.
A native of Santa Barbara, he has been printing since he graduated high school and took graphics and music classes while attending City College.
After beginning his career working with offset printers used for printing newspapers, he moved on to xerography because he couldn't stand the smell of chemicals inside of a darkroom.
"I'm not a cubicle kind of guy," Yanez said. "I love creating on the computer and then I like working on the machines."
His first career was as a lead singer in a heavy metal rock band, appropriately named Up N Arms, for 10 years. They've played at Hollywood mainstays such as The Roxy, Whiskey a Go Go and Coconut Teaszer.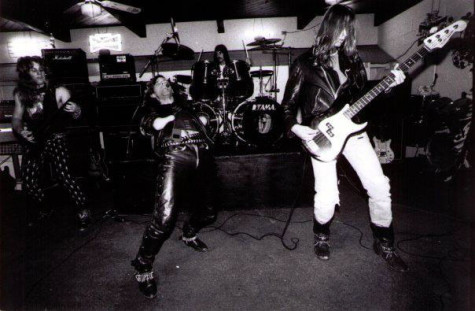 "I had hair down to my ass. I wore spandex and lipstick. It was the eighties rockin' era," he said.
Two week after being signed by Capitol Records, however, the group split up from the stress of making it big. Despite the break-up, Yanez rediscovered his passion for music through playing in bands for fun.
"I was like a broken man when it was all over," Yanez said. "So I was all, 'I still want to sing, but I want to have fun now.' And bar bands did it for me."
Yanez described himself as a family man as he scanned through photos on his wife's Facebook profile, who he has been married to for 23 years.
He hopes to play professionally again in the future, but is carrying on his love for music through his children. His son, 18, plays the saxophone and his daughter, 16, plays the violin, "We're kind of a musical family."
Another one of his passions is riding his motorbike, a Honda Shadow Spirit 750, something he never doubted that he could do despite not having any hands.
"When I was fourteen, I walked up to a motorcycle and I knew I could ride before I even threw my leg over," he said. "I've always known if I could do something before I ever attempted it."
Yanez, along with two other employees, are responsible for stocking the Bookstore with paperback books required for classes. They also send out the school's mail and print business cards, a job that often goes unnoticed but is essential to the college.
Robert Mendoza has worked as a duplications technician for 25 years and described him as a professional with a good sense of humor that everybody likes.
"Dan can basically do everything," he said. "There's nothing he cannot do."