Isla Vista resident turns garage into surfboard shaping bay
An Isla Vista resident is making a name for himself around the community by shaping surfboards in his garage.
Cooper Hamilton, the founder and head shaper of Yafaa surfboards, has been working out of his garage for the past two years. He does patchwork and shapes all kinds of boards from longboards to fish's, short boards, Alaia's, and handplanes.
Hamilton came up with the name 'Yafaa' after traveling through Eastern Africa for two years and falling in love with the Swahili language. The word 'yafaa' in Swahili directly translates to 'better.' However, as Hamilton explained it, the word isn't used in the same way as English speakers use it.
"It's more of a slang word that has to do with desire. Like most slang words it can be used in many different situations. It just depends on the context," he said. "It's cool because it has two meanings really, when translated it means 'better surfboards,' but then the slang word definition is there too."
Hamilton grew up surfing in an era where shapers such as Rusty, Merrick, and JS were some of the biggest names in the surfboard industry.
"Rusty and those guys definitely influenced my style of shaping," he said. "But I also really like the old school guys shape such as Donald Takayama."
His style is more "laid back." He shapes boards that are supposed to be ridden on a certain wave, not just standard 6'1", 18 ½ by 2 ½ boards.
Hamilton is most comfortable shaping fish boards, which can be used about 200 days out of the year. The people he makes them for are always the most thrilled because they can catch more waves, especially here in Santa Barbara. A standard short board may only be able to catch a good wave 40 to 50 days a year.
Hamilton grew up working construction, which really helped him with his shaping later on.
"I became a perfectionist from that. You can't really cut corners when you are building someone's deck. That could go terribly wrong," he said. " I am the same way when it comes to making surfboards. Everything has to be perfect with nice clean lines. This takes a while, but it comes out looking like you want it to. I don't really think shapers my age have that sort of time and patience."
Hamilton first got into shaping when he moved to Isla Vista five years ago.
"When I first moved here I didn't know anyone. I would just surf by myself and then try and find things to pass the time," he said. "I started going on the Internet and looking up different kinds of boards and ideas of boards."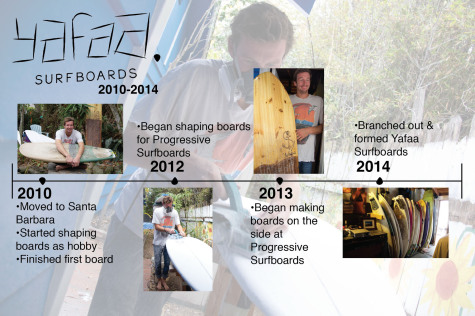 Hamilton began to learn the art of shaping boards by teaching himself. He started out small, shaping hand planes and smaller things until he was comfortable working his way up to bigger projects.
"I would get these super old beat up boards and rip the entire fiberglass off and started cutting away," he said. "There was a lot of trial and error before I got the hang of it."
After getting started in his uncle's backyard, Hamilton got a job at Dave Johnson's shaping shop in Goleta where he was able to shape boards in a professional shaping bay. He used those experiences has been shaping boards out of his garage-turned-shaping bay for the past two years.
Nick Nyeholt lived with Hamilton and saw the whole process.
"Living with Cooper was very different but interesting," said Nyeholt. "There are all kinds of boards everywhere and kids are always coming by dropping and picking up boards. It was cool though because I got to see the whole process of making a board from start to finish."
Hamilton lives on the 68 block of Sabado Tarde in a blue house with a pond and tropical plants in front.
"Working out of my garage is nice because I don't have to go anywhere. In I.V. it's cool too because when people need a board fixed or want a board made they just come over and drop their board off," Hamilton said.
"It has a more family feel to it."