SBCC students showcase self-made jewelry, sell locally
When you combine the beautiful, glistening beaches of Santa Barbara, and a creative mind, it's a tempting environment to start a business.
Caught under this creative spell are three City College students, Brianna Daniels, Jeanna Bracchitta and Shelby Smith.
All have different designs, yet a one common interest–to create their own startup jewelry business.
In the past few years, each have began this process, by designing and creating their own accessories.
Ranging from beach related trinkets, high-class gems, to shells literally found on the beach, all three styles are unique.
The seed has been planted, the companies created, now these designers work to give their community a taste of their creations.
Forbes magazine said the number one thing needed for a startup business is vision.
All three envisioned their individual jewelry ideas and made those dreams into a reality.  Their pieces can now be found around Santa Barbara.
Thanks to the help of social media sites to advertise their jewelry, as well as local shops around town, their businesses have flourished.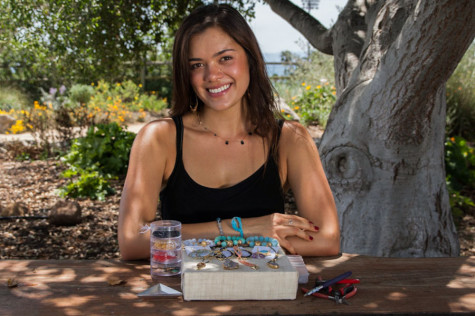 Brianna Daniels
Brianna Daniels, 21, found her passion for jewelry design in fifth grade. She grew up in Santa Barbara, where the beach was constantly around for inspiration.
Her business, Studio399Jewelry, is ocean inspired and handmade fine luxury jewelry.
"The 399 is my address, and the 'studio' is my bedroom," Daniels chuckled.
Daniels has been designing jewelry for 13 years. Her work ranges from beaded, colorful bracelets, to long beaded necklaces with shiny gold shark teeth hanging at the bottom.
"I love working on my jewelry in my backyard," Daniels said. "It's like Hawaii back there."
Daniels donates 25 percent of her proceeds to the Neonatal Intensive Care Unit at Cottage Hospital.  The NICU handles children, like Daniels when she was born, who are having trouble in their first days after birth.
Inspired by her environment, it's her way of giving back to the community.
To order your own ocean inspired jewelry, visit here. studio399jewelry.com, or check out her work on instagram @studio399jewelry.
Jeanna Bracchitta
Jeanna Bracchitta, 22, finds her inspiration from her natural materials and sports her own colorful designs draped around her neck and wrist.
Using semi-precious beads and natural gems, inspired the creation of her business, Jeanna's Jems.
"I've been crafting since I was five years old," Bracchitta said. "There are literally pictures of me as a baby in a high chair playing with beads and string."
Incorporating her love of ruby and aquamarine, her jewelry consists of all high-quality beads.
Bracchitta said a lot of her creations originate from her shopping and seeing jewelry and thinking, "I could make that better."
Lotus Skin Care & Well Being Shop on the Mesa sells Jeanna's Jems, and she also features her business on Etsy.
She strives to never give up on her passion for creating jewelry.
"I've made some pretty ugly things but when you make something that you fall in love with, and others fall in love with it too. It's accomplishing to know that you made that," Bracchitta said.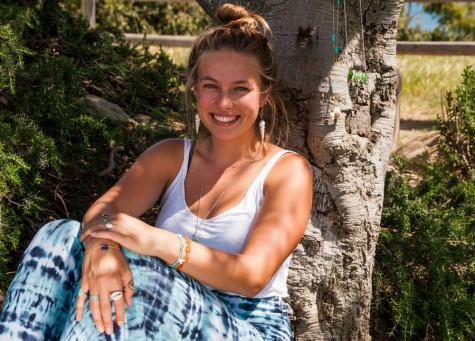 Shelby Smith
 With colorful sea glass hanging from her neck, Shelby Smith, 21, finds her jewelry materials on the beach and sells it to all the "landlocked mermaids."
"Find yourself at the shore" is the slogan of her company, Lost Shell Collective, which she started two years ago.
"If you find something on the shore you love, why not wear it?" Smith said, covered in rings of puka and cowry shells.
Smith finds herself often on the beach, surfing or searching for cool shells and sea glass for hours.
Dangling from her ears are long white screwdriver shells she found.
Her jewelry is sold at Beach House, a clothing and surf shop on State Street. Her jewelry is also on her instagram @lostshellcollective.
Eventually, Smith hopes to make Lost Shell Collective a brand name, offering clothes, bathing suits and anything beach related.  She also hopes to donate her profits to Surfrider Foundation, an organization dedicated to the preservation of the world's waves and beaches.
"I love the ocean and I love making jewelry, so I combined the two. Find what you love and do it," Smith said.