Public health major travels to Israel for hands-on training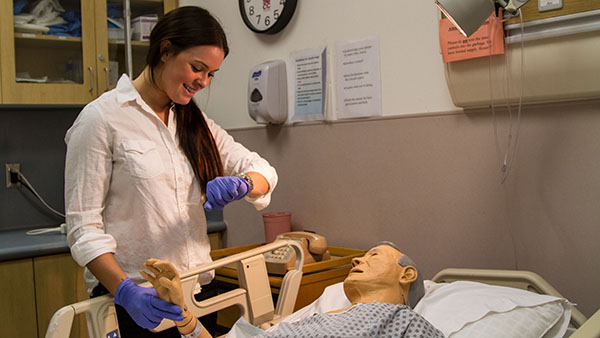 At age six she rushed over to her father to wrap his stubbed toe and ever since, knew she was destined to be a doctor.
This upcoming Spring Semester, City College student Skylar Lane, will have the opportunity to get a hands-on experience as a first responder intern in Tel Aviv, the largest metropolitan city in Israel.
"The medical field is such a huge goal, but that's all I've ever had my eyes set on," Lane said. "I feel experience is the best learning technique. Anyone can be taught a lesson in class, but being put in a real situation is a completely different side."
Lane recently finished her fourth interview with coordinators at Career Israel, an internship program developed to enhance Jewish students resumes and career opportunities. The training will help the 19-year-old gain work experience in the medical field.
"People's lives are going to be in my hands." Lane said. "I'm so thankful to have this opportunity, especially at such a young age."
After having her final phone interview at 4 a.m., Lane was accepted into the program. She now plans to spend five months responding to medical emergencies at a siren's notice.
"I wanted a general medical internship. The most hands-on medical internship Career Israel offers is the first responder," Lane said. "I never thought I would be working in an ambulance. I'm going to be in the back of the car helping the patient."
With no prior certified experience, the public health major will spend the first 12 days learning a backbone of skills. She will work with cutting-edge life saving equipment, learn to administrate liquid substances into veins and use oxygen powered breathing devices.
"It's going to be intensive training from eight in the morning to eight-thirty at night. I'm going to be constantly training," Lane said. "I have three hours to review what I've learned that day. Then at 11 p.m., I'm going to have a test."
Upon training completion, Lane must memorize 300 medical terms and basic conversation words in Hebrew. She will be in charge of communicating with panic stricken patients.
Along with two trained paramedics, the Huntington Beach native looks forward to being a key member in the ambulance car and remaining cool-headed under pressure.
"It's going to be new for me but learning is motivating," Lane said. "The other two people are depending on me to keep the patient calm. I'm going to need to have a constant conversation with patients in Hebrew."
Lane will work five shifts a week for Magen David Adom, Israel's national emergency medical and ambulance service. Typically MDA and Career Israel prefers college graduates to work as first responders.
Because she works with older professionals at her job at Recovery Road Medical Center, Lane has a strong medical background for her young age. Her experience as a patient care technician and volunteer work at a homeless shelter and hospital helped enhance her acceptance.
"It's cool to see a completely different side of the medical field," Lane said. "It is quite an accomplishment and I am the youngest in the group. The whole program is aimed for 21 to 30 year olds. I'm the underdog."
This will be Lane's second time visiting Israel. She previously traveled this past summer with her sister and a Jewish peer group. Lane explored the country from top to bottom and fell in love with the diverse cities and culture.
"It was the best experience of my life. I was there for two weeks but it was from a tourist point of view," Lane said. "Now I'll be living there for five months and on my own. I think it's going to be a huge culture shock."
Lane said her family members and City College professors are supportive of her internship and career goals. She has asked family and friends to contribute donations for her internship fees.
"I'm the first out of my immediate family going into the medical field. It's a huge difference," she said. "My parents are constantly supporting me and it feels great to have that."
Her American Sign Language instructor, Ignacio Ponce, showed his support by purchasing a car wash ticket for her fundraising event. After hosting two bake sales and a car wash, Lane has raised $615.
"I wasn't surprised she wanted to do something like this. She dreams big," Ponce said in an E-mail. "Skylar is a fast learner, driven and goal oriented. This internship as a first responder in Israel will provider her with a solid foundation and hands-on experience."
Lane hopes to transfer to UCLA then plans to continue medical school at her dream college, John Hopkins University.
But for now, the next step for the City College student is saving Israeli lives.