Planetarium superstar Fred Marschak says goodnight to astronomy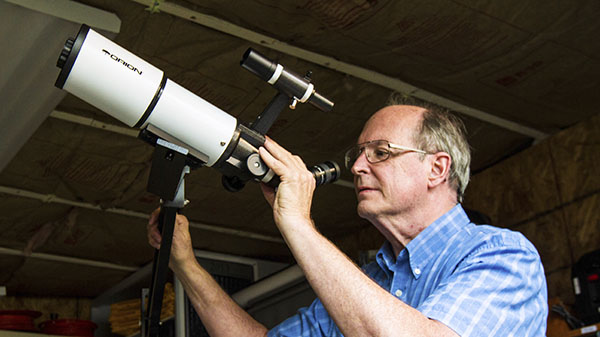 Flashback to 1977, Fred Marschak, earth and planetary science professor, has just left his small hometown in Hollidaysburg, Pennsylvania and is headed down the road to sunny Santa Barbara.
"In general I've always wanted to be a teacher. Ever since around the ninth grade I realized I wanted to teach," Marschak said. "Over the years I've taught over 50,000 students. It has been a big part of my life."
During his career as an educator, Marschak has seen thousands of students in his classes. After years of continuous teaching he will retire from City College at the end of the Spring 2014 semester.
"Decisions can happen fast when you are ready and open for them to happen," Marschak said. "It's similar to switching gears and now it's a new adventure."
His teaching career took place in two locations, with the first 11 years back East and the past 37 at City College.
When he retires in June, he will have a total of 48 years of teaching. After retirement he plans to relax and enjoy Pennsylvania Dutch style cooking.
"I'll miss the idea of being here, pulling up each morning and putting the car facing towards the ocean," Marschak said. "Also the idea of teaching students, and of course my colleagues and the department."
Over the summer, the teacher and his wife headed back east to attend their 50th high school reunion and he fell back in love with his home roots. During the visit, he spoke with a retirement community and headed back to California with the decision to retire.
"Back East is completely different from years ago. There's a lot of exploring of what used to be my own backyard," he said. "It's a more relaxed and a simpler lifestyle."
His new house is surrounded by farmland and is currently being built on a 48-acre retirement property. Marshack plans to travel 2,630 miles across the country in his new Toyota Rav4. Keeping him company on the drive will be his wife and two cats, Tycho and Comet.
"Everything fell into place. We felt that since we don't have any children, except our cats, that we should move while we're able," Marschak said. "I'm going to miss everything about SBCC. But I feel the time is right to move on."
During his career he created the observational off-campus astronomy lab at the Santa Barbara Museum of Natural History. He is also one of the first professors on campus to introduce the use of clickers, an electronic learning tool, for student participation in large classrooms.
Throughout his career Marschak also led multiple student field trips to watch the space shuttle construction.
"I've loved every minute of it," Marschak said. "We go to restaurants in Santa Barbara and there's always someone I've had in my class. I've also had many of the campus staff in my classes."
Marschak has made a mark with students, faculty and the community. To many, he's known as the warmhearted and enthusiastic science professor in the Physical Science Building room 101.
Geordie Armstrong, geography instructor, credits Marschak for his positive impact on her life.
"I took his class and didn't know what I was going to do in my life. He made me realize I was able to master physical science," Armstrong said. "He's the reason in many ways that I became a geographer and teacher. It's been one of the greatest honors in my life to be a student and now a colleague."
She enrolled as a junior in high school and began his course with little direction about her career path. Armstrong said she is thankful for taking Marschak's class in 1993.
Armstrong said the campus won't be the same after Marschak's retirement.
"This is my first semester in college and getting to take one of his last classes of astronomy makes me grateful," Jeanette Solis, 18, City College student enrolled in Marschak's Introductory Astronomy class said. "He's a good teacher."