SBCC to host witty play 'Other Desert Cities' at Garvin Theatre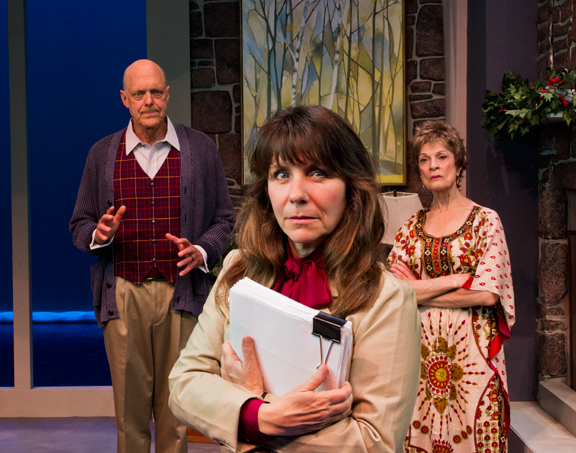 Production is in full swing for the dynamic drama, "Other Desert Cities," as City College's Theatre Group gets ready to take the stage Oct. 12, in the Garvin Theatre.
"I think it's rare to have a modern play that is this witty, and intelligent and emotional," said Stephanie Katers, who plays Brooke in the play. "Its funny and gut wrenching, which is a very satisfying theatrical experience so I think the audience will come away feeling like it was a really well spent couple of hours."
Written by Jon Robin Baitz and directed by R. Michael Gros, the play will feature Tom Hinshaw, Stephanie Katers, E. Bonnie Lewis, Meredith McMinn, and Justin Stark.
The play is about a family that struggles to keep their turbulent past hidden when Brooke, the daughter tormented with manic depression, returns home to Palm Springs to celebrate Christmas, after being away for six years.
Brooke reveals she is writing a memoir, which isn't favorably received by her parents. They feel it threatens to re-open old wounds and would unleash lies that her family may never be ready to face. Dealing with years of issues and deceit stemming from the Vietnam War, then later the Iraq War, a number of family secrets are revealed as the play unfolds.
McMinn, who plays Brooke's mother Polly, said that the moral dilemmas of the play and the complexity of family dynamics are something the audience will connect with.
"At the core of it all is love," said McMinn. "I think everybody can relate to that."
Gros, McMinn, and Ben Crop, theatre technical director, feel the production is ahead of schedule in the preparations surrounding the upcoming performance.
"We have an outstanding production and design team and a really deeply talented pool of actors," Gros said. "That creates tremendous possibilities."
Crop said that overall it has been a really smooth process. There are no special effects and the set required only simple architecture, which made the play's development easier and more relaxing.
The show will run from Oct. 14-29 and be shown at 7:30 p.m. Thursday through Saturday, and 2 p.m. Sundays. There will be two preview shows on Oct. 12 and 13, for a reduced price.
The show at 2 p.m. Sunday, Oct. 16 will be live captioned for the hearing-impaired, and all performances will have an assisted listening system available and are wheelchair accessible.
Prices are $24 for general admission, $19 for seniors and $14 for students for Thursday evenings and Sunday matinees, and $26 for general admission, $21 for seniors and $17 for students Friday and Saturday evenings.
The preview ticket prices are $18 for general admission, $15 for seniors and $10 for students.
For information or to make a reservations call the Garvin Theatre Box Office at (805) 965-5935, and tickets can be bought online at www.theatergroupsbcc.com.