When Anna Kasper was 15 years old, she sang to Jennifer Lopez, Steven Tyler and Randy Jackson.
Tyler and Jackson decided she wasn't so bad, and soon she was one of the top 150 singers on American Idol.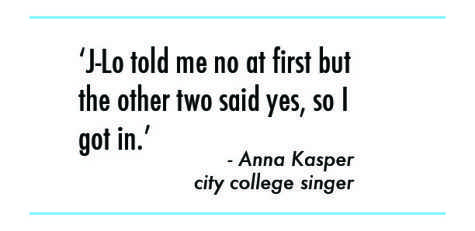 "J-Lo told me no at first but the other two said yes, so I got in," Kasper said.
Halfway through Hollywood Week she was cut, but J-Lo encouraged the young singer to return next year.
Story continues below advertisement
"I didn't go back because it was fun, but a little too crazy," she said.
Today, the silky tone of her voice fills the practice rooms of City College with renditions of the bluegrass tune "Dark as a Dungeon," composed by Merle Davis, made famous by Johnny Cash.
The City College music major who is now 18, is rehearsing with mandolin accompaniment for a performance at the Student Salon.
"When I was six years old I performed in front of my school with my dad on piano, and since then I knew singing is what I was meant to do," Kasper said.
Passionate about her art, Kasper takes on every challenge and opportunity and is always willing to try new things.
At a young age sang regularly with a cowboy band in Los Angeles doing vintage country style music. Kasper grew up in Los Angeles and later moved to Ojai in the seventh grade.
Using his record player and extensive vinyl collection, Kasper's father introduced her to music at a very early age, exposing her to everything from 1930s jazz classics to her all time favorite: The Beatles' White Album.
With the support of her parents, Kasper graduated high school after freshman year through an independent study program so that she could get a head start and focus on her music. Although she has been at City College for three years, this is her first semester as a music major.
"I have started focusing more on the musical aspects of it," Kasper said. "These classes help with musicianship and theory, and I've started playing piano and writing some stuff, which makes everything feel more natural."
Despite the fact that the difficult industry and tough classes sometimes discourage her, Kasper has never been able to imagine doing anything else.
"At one point I tried quitting just to see what would happen and it took me two weeks of no singing before I picked up my guitar and started singing again," Kasper said.
About a year ago, Kasper had the chance to sing at the Beverly Wilshire Hotel Grand Ballroom for a Time Warner client party with an 11-piece big band while doing 1930s arrangements of jazz standards.
"It was a really cool feeling to be on that big stage with the lights and everything going on, singing a genre that I love and feeling like one of the singers that I admire," said Kasper, calling it one of her favorite memories of performing thus far.
Kasper's roommate, Carly Cummings, who is also a music major, has always marveled at the passion and dedication Kasper has for music, and her good attitude towards everything despite the astounding workload.
Aside from every class, singers must constantly practice in case they are called to perform on short notice. According to Cummings, Kasper prepares by putting on her recital dress and bouncing around the house while singing her song before every performance.
"She knows what she wants to do and she's putting everything that she has into it," Cummings said.
Kasper is currently working on getting her Associates Degree, performing as much as she can, and doing collaborative projects with other students.
"I'm just taking every opportunity as it comes up so a lot of stuff has been going on," she said. "I have to take it one day at a time otherwise I'd go insane."
Kasper is going with the flow and letting music take her wherever it does, which will hopefully, one day, be on tours around the world.