SBCC women's water polo wins first conference game of year
City College women's water polo opened up conference play with a 15-12 comeback win against Ventura College at San Marcos High School.
Ventura got off to a fast in the first 10 minutes and took a four point lead against the Vaqueros. The game started to pick up for City College in the second half. The team outscored the Pirates 9-4 after halftime.
City College picked up its eighth win of the season.
"It's teamwork and hard work but dedication is what really keeps us going and pushes us to keep fighting," said City College freshman Lexi Rond (No. 7). "Everyone on the team is really supportive whether we're in the water or not."
The Ventura College's goalie was ejected in the second half of the game when she and another teammate fouled Rond. Ventura's goalie had to wait in the corner while Rond was given a penalty shot. A Ventura player was allowed to stand in for the goalie.
"It was pretty unusual," said Rond. "I've only seen that happen maybe three times in my career."
Rond made the shot and tied the game at eight.
Rond is a Freshman who plays center and utility for the Vaqueros. Rond is the team leader in goals and assists this season and is a big contributor to the team's success.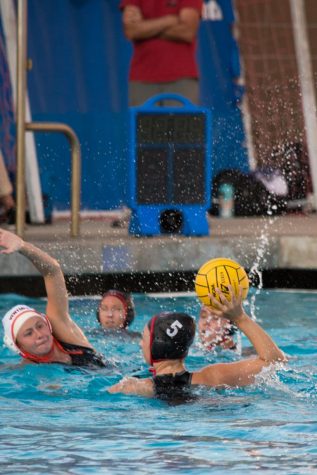 "We've worked so much already," said Rond. "I've had a lot of fun so far. It's been a great experience."
Head coach Chuckie Roth, in his fourth year of coaching at City College, liked the way the team played.
"We had some good plays. Our center was good," said City College head coach Brian Roth. "We had to spread our offense out. We learned to just be patient."
Roth added that the team still made some mistakes that it has to work on.
A player that stood out today was starting freshman Tori Bray (No. 2). Bray had the highest scoring total of the game with four goals and two assists.
Roth said that her performance in this game was phenomenal.
"We have been working super hard and super well together in and out of the pool," said Bray. Today showed that we are not willing to give up."
Team Captain Halie Johnson (No. 4) was just behind Bray with three goals and one assist. She played a majority of the game and was pleased with the new plays her team ran.
"Resilience is what really helps our team. We have a really strong bench. The support is strong" Johnson said. "I think we can work on communication."
This was City College's first home and conference game of the season.
City College is looking to capture its fourth consecutive Western State Conference title and make it back to the state finals.
The team will play next at 12:40 and 4:10 p.m. on Friday, Sept. 22 against Orange Coast and Mt. San Antonio College at the Mt. SAC Women's Classic.
City College will resume conference play at 2 p.m. Wednesday, Sept. 27 at Citrus College.